SYDNEY Event report Transport - Logistique
C-Suite Roundtable: A Luncheon with The Hon. Rob Stokes, NSW Minister for Infrastructure, Cities, and Active Transport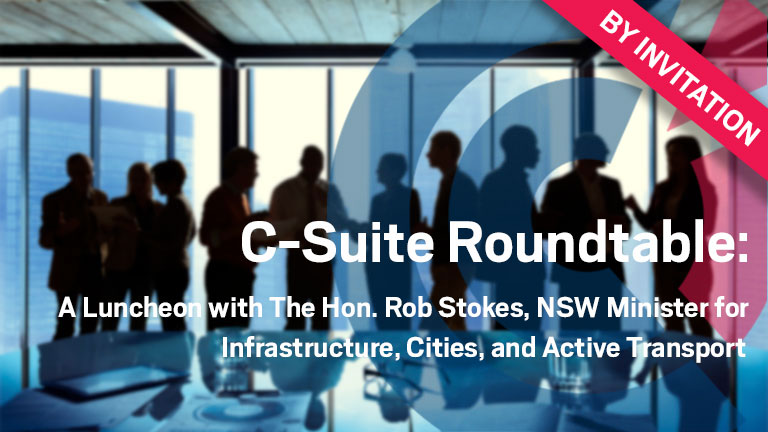 Our NSW Chapter had the privilege of hosting Business Leaders for an Exclusive Luncheon with the Hon. Rob Stokes.
The French Australian Chamber of Commerce & Industry was delighted to host the C-Suite Luncheon with the Hon. Rob Stokes MP, Minister for Infrastructure, Minister for Cities, and Minister for Active Transport.
This C-Suite luncheon was a great opportunity for our guests to understand the vision of the NSW Government for the future of our cities. From a metropolis of three cities to a city region of six cities, the ambitions and projects undertaken by Hon. Rob Stokes MP are very promising for the residents of NSW and our local economy.
With Infrastructure NSW and the Greater Cities Commission (former Greater Sydney Commission) under his responsibilities, the Hon. Rob Stokes MP was able to share his vision for the future, being a series of interconnected, dynamic and resilient places, each with their own clear and unique identity.
The recent announcements from his office such as the $950 million that will be invested in active transport across NSW over the next five years, (including $110 million through the extension of the government's Walking & Cycling Program) around the active transport network are also topics that we addressed.
How to revitalise the centre of our cities after more than 2 years of COVID-19? What are the strengths and lessons we learnt from the six cities? What are the priorities of the Hon. Rob Stokes MP to connect our cities? How can we manage the impact of climate change in a mobile and connected environment? These are all questions we tackled during this lunch organised under the Chatham House Rule.
This C-suite roundtable discussion was open to a selection of C-level Executives in industries relevant to the topic at hand with the objective of creating a suitable and trustworthy environment to discuss with Key Representatives from the Government, senior academic circles and research or pioneering companies. In other words, these roundtables support businesses and the Government at the highest level.
We trust these C-suite roundtables are important so that we are all moving forward with maximum knowledge and an understanding of what is important to achieve our common goals.
After the keynote address from the Hon. Rob Stokes MP, Minister for Infrastructure, Cities and Active Transport, attendees had the opportunity to voice their opinions about these important topics relating to the future viability of our cities.
Thank you again to all those who attended and contributed to a worthwhile discussion.