New members
Welcome to our new Wine & Dine Member: The French Patisserie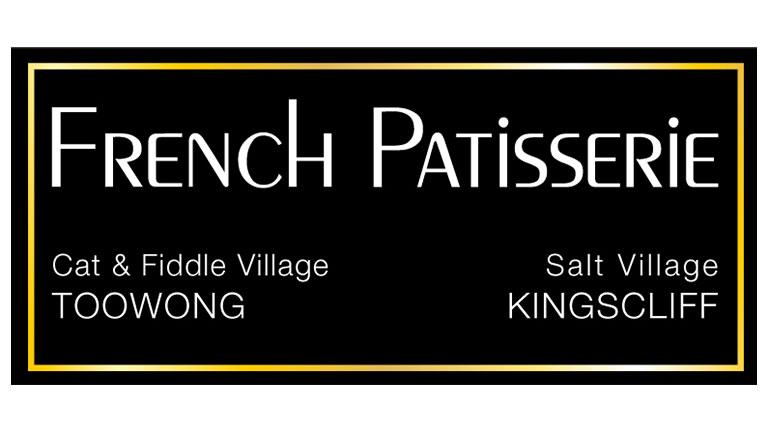 The French Patisserie has been supplying Brisbane with authentic French style pastry products since 1984.
The French Patisserie has been owned by the Gravestein family since 1998. Justin Gravestein trained there from age 15 with the original three French brothers who opened the patisserie. Today, Chef Anthony Steele heads their patisserie's kitchens while Craige & Ruth Gravestein continue the family business.
The Toowong patisserie has become a part of Brisbane folklore, even having been included in award winning author Nick Earls' 1997 novel, Zigzag Street. They are serving next generation customers who come with tales of eating here or ordering their croquembouches decades ago with parents and grandparents.
Salt Village French Patisserie, which used to be a 'while on holiday in Kingscliff' thought bubble has now gathered momentum and they are delighted to see it has now become a favourite French pastry fix for the northern NSW community. The kitchen there is managed by Senior Pastry Chef Quentin Jouvenaux.
Their speciality is French pastry. The difference between an authentic French pastry and the usual is:
They use butter, rarely margarine;
They fold the butter into the dough, they do not mix it in;
Every product is handmade, therefore there is variation as a result;
Their croissant, pastries and bread are not taken out of a box, they are not made from pre-mixes, they hand make every one of them at either their Kingscliff or their Toowong bakery;
They make all of their own product, from scratch;
Their Pastry Chefs mix, bake and decorate with love to provide sheer delight to their customers.
As well as pastries they create great tasting macarons and gateaux (cakes). Each gateau is handmade by their Pastry Chefs in the traditional manner, many with small amounts of alcohol to add a distinct French signature. They use génoise sponge which differs from ordinary sponge cake in that the eggs are beaten whole. For most of the gateau there are usually three layers of sponge and buttercream. Most cakes are iced in real buttercream, ganache, cream cheese frosting or royal icing.
For your corporates functions and meetings, you can also find theme on Orderin.com.au.
---
Website: The French Patisserie