FACCI is proud to present its special Bastille Day online Wine & Champagne Experience.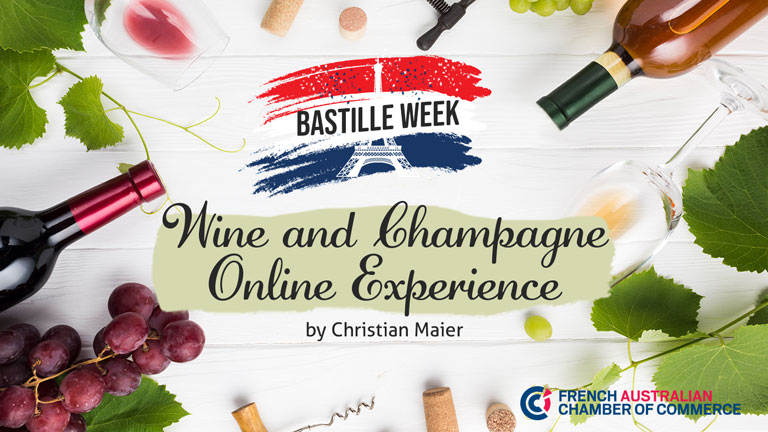 To celebrate together, join us and taste wine while learning about French winemakers in Australia on Tuesday 14 July at 7pm (AEST)!
Our sommelier Christian Maier will present an interactive session about French & Australian savoir faire in winemaking through 4 different types of Wine & Champagne from our amazing sponsors.
Each registrant will have the pleasure to receive a box containing one of each following bottle:
The box will also contain surprises from our sponsors.
This online class is proudly sponsored by our member Le Creuset, who will offer a Wine Enthusiast Set that includes a Red Wine Glass Set of 4 and a Decanter with Glass Funnel to one of the participant. Bottli will also offer a complementary wine tasting experience at home for 6 persons (winners will be drawn during the live by the Sommelier).
How does it work?
Step 1: Register and book your online Wine & Champagne experience*
Step 2: Receive your box at home and keep the Champagne, Rosé and White wine in the fridge. Thanks to our sponsor BOTTLI that will make sure you receive your Wine and Champagne in a beautiful eco-friendly packaging.
Step 3: Invite your friends & family to join you during the online wine experience, it always tastes better when its shared with your loved ones!
Step 4: D-Day! You will receive a Zoom link to connect, 30 minutes prior to the start of the event. Get your bottles & glasses ready, and enjoy this unique experience!
Feel free to turn your camera on to share this convivial moment with the Sommelier and the other participants!
* limited quantity of wines boxes available, first in best dressed!
The whole FACCI team is looking forward to sharing this moment with you! And thanks its sponsors for their generosity.
Register now and à la vôtre!