This event which will host CEO and C-levels of major companies, is exclusively open to Patron Members.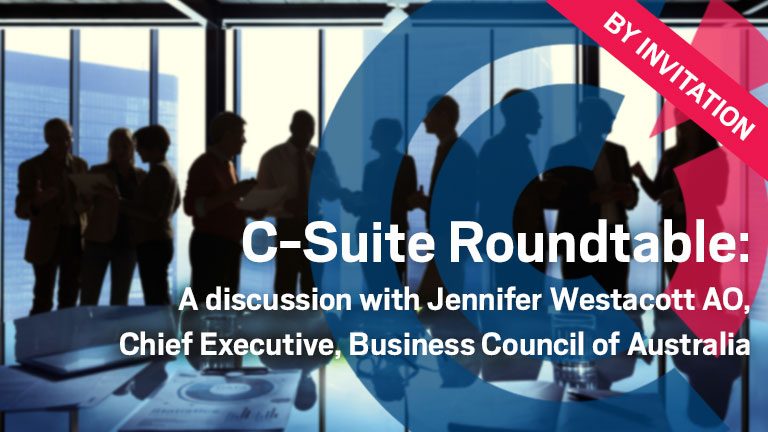 The French-Australian Chamber of Commerce and Industry is delighted to welcome our special guest Jennifer Westacott, Chief Executive of the Business Council of Australia for an exclusive online C-Suite roundtable discussion, focusing on the Australian economy, resilience, and positioning of Australian CEOs regarding the current and upcoming policies created by the Australian Government.
Despite Australia's ability to bounce back from the harm caused by COVID-19 over the last 18 months, there is still a long way to go if Australia wants to keep up with the rest of the world. Australian and international businesses need to be involved in the future of our country to ensure that they, alongside the government, lead Australia in a sustainable direction.
This discussion is prompted by the Discussion Paper, 'Living on Borrowed Time- Australian Economic Future' published in June 2021 by the Business Council of Australia and will be led by Jennifer Westacott, Chief Executive of the Business Council of Australia, Benedicte Colin, FACCI Federal President, and François Romanet, Chairman of the FACCI Advisory Board.
After a keynote address from Jennifer Westacott, our guests will have the opportunity to voice their opinions about these important topics relating to the future viability of Australia and its presence on the global stage.
The Business Council of Australia (BCA) is the industry association with the vision of establishing a stronger Australia. They strive to actively engage with all aspects of the Australian community, to ensure the creation of meaningful jobs, and inclusive work environments stimulated by successful businesses. They advocate for policy settings that are in the national interest, as well as aim to generate sustainable economic growth within Australia.
Please note that this event is invitation only.