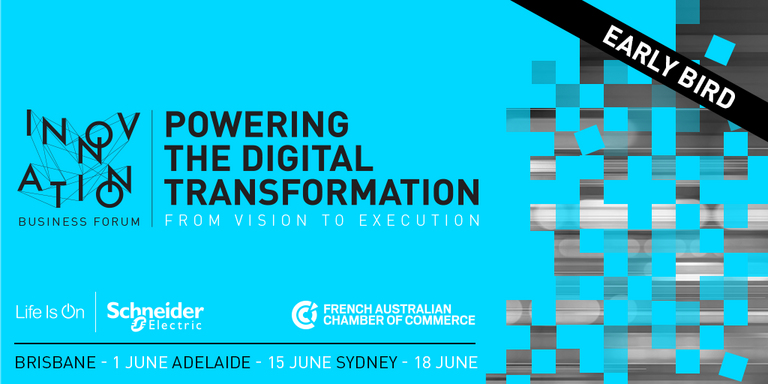 Why is Digital Transformation important? What does it mean for different industries? How will it affect the way we do business and how can we adapt our current business models moving forward?
Digital Transformation is an incredibly diverse subject area. Our Forum will take you on a journey; Powering the Digital Transformation: From Vision to Execution, enabling you to gather key takeaways with practical applications in your own business environment.
Organised under the patronage of His Excellency Mr Christophe Penot, Ambassador of France to Australia, the 2018 Schneider Electric Innovation Hub Business Forum will showcase the best innovative practice, highlighting the French-Australian Business Community's crucial contribution to transforming the way we live and work.
High-level discussion and thought-leadership, through participant-centric learning will be an integral part of the day. From top influencers, government officials and academic researchers to pioneering French and Australian companies, our dynamic format will facilitate key business networking opportunities.
Take part in shaping the future. Book your place now.
Early bird tickets are available for a limited time only!
Registration from 7.45am
Business Forum from 8am to 4.00pm
Cocktail Reception from 4.00pm
WHEN
Friday 1 June 2018
7:30am – 4:00pm
WHERE
Government Tower
Level 41, 1 William Street
Brisbane, QLD 4000
Find out more at www.faccibusinessforum.com.au