FACCI is excited to invite you to a virtual trip to France and a French wine tasting!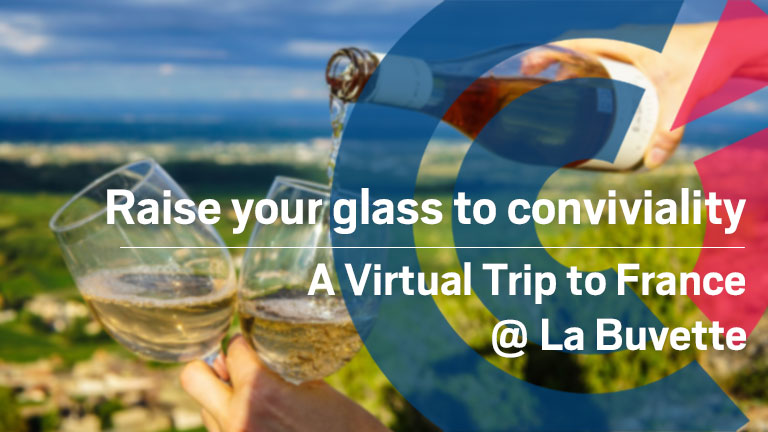 The French-Australian Chamber of Commerce and Industry invites you to Raise your Glass to conviviality!
We are delighted to welcome you to a French-themed aperitif @ La Buvette on Tuesday 7 December, to savour exclusive French wines with Noble Spirits whilst embarking on a virtual tour of France's Beaujolais wine region with Show Tourz.
Show Tourz was created by Carol Haslam following the closure of international borders to give South Australians a virtual taste of travel and the opportunity to explore France thanks to her many stories and photos taken during previous trips.
In-person tickets are available for purchase starting from $54 for FACCI Members, and $79 for General admission. Our guests in Adelaide will discover the Beaujolais region through all their senses. Photos, videos and personal experiences will be shared for the pleasure of your eyes and ears. Three French wines from the Beaujolais region will be tasted to complete the olfactory and gustatory experience: a highly aromatic, earthy Gamay (Beaujolais-Village AOC) perfect year-round, a delicate and soft Tiserny Chardonnay, citrus on the nose and fresh on the palate, and a light-bodied, fruity Roncier Pinot Noir.
To accompany our wine drinking, a fabulous spread of French aperitif style food will be served.
The wine bottles will also be available for purchase on the night of the event, at an exclusive discounted price. A wine bundle can also be purchased online costing $110 including shipping to any address in Australia.
Register for a chance to win an incredible Tefal Ingenio Titanium Fusion Non-stick Induction 8-piece Cookware Set, thanks to our partner Groupe Seb and 5 x Admit-2 In-Season cinema passes offered by Palace Films, exclusively screening French film Delicious in South Australia.