Francois Romanet
Francois Romanet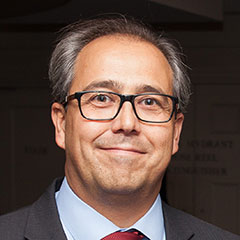 Francois Romanet was born in the Auvergne-Rhône-Alpes region, France and he is 53 years old.
After studying in Paris (Master in Finance and Business) and a few years in New York (USA), Francois started with French multinational SAFRAN in 1995.
From 1995 to 2003, his role evolved to management level across various business units for European, Asian, African, North and South Americas markets within the Group.
From 2004 to 2017, he was appointed as CEO for SAFRAN Pacific (Aeronautics, Defense & Security).
From 2017 to 2022, he was Chairman and CEO for Naval Group Pacific, a world leader in naval defence, designing and building submarines and surface ships.
He was NSW President of the French-Australian Chamber of Commerce (FACCI) for 2 years (2013-2014) and appointed as Federal President for 5 years (2015-2019). He continues his commitment to FACCI as Chairman of the Advisory Council.
He is currently a Board Member of the European Australian Business Council (EABC) since 2015. He has recently been appointed Board Member of the Alliance Francaise of Sydney and is a member of the French Foreign Trade Advisors (Australian Committee) since 2005.
He was Chairman of the Board of the French International School of Sydney from 2007 to 2010.
Francois has received the National Order of Merits in the rank of Knight.
He holds French and Australian passports.