Frank Ribuot
Frank Ribuot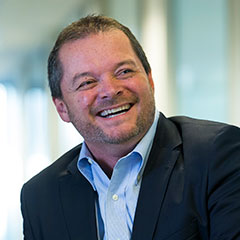 Frank Ribuot, a French and Australian national, is the CEO of Randstad Group France since 2020 (Expectra, Randstad, Risesmart, Ausy, Monster, Appel Medical brands). He recently became President of the Australian France Business Association in Paris.
Prior to this he served as the CEO of the Australia, New Zealand, Singapore & Malaysia and the Chairman of our Indian operations.
Frank has over 30 years of experience in operations, general management and human resources consulting, predominantly in the Asia Pacific region having lived in China, Japan, Malaysia, Australia, Singapore and having extensively travelled throughout the rest of the region.
In his current role at Randstad he is focused on strengthening the company's performance, productivity, agility and innovation, through strong business management, investing in people, and he has a passion for superior sales and technology strategies. Randstad is a Fortune Global 500 company and the world's leading recruitment & HR solutions specialists, headquartered in The Netherlands.
Frank was involved with French Australian Chamber of Commerce until his departure from Australia for his overseas posting. He is also very involved in the D&I space. In Australia he was a WGEA Pay Equity Ambassador and now an Advocate for l'Autre Cercle.
Frank received his Master's and Bachelor degrees in Business from the prestigious Kedge, France and has completed a countless number of professional development courses primarily with London Business School and Insead.