Event report • Conference & Seminar • Forums • Networking
VIC | 2019 Schneider Electric Business Forum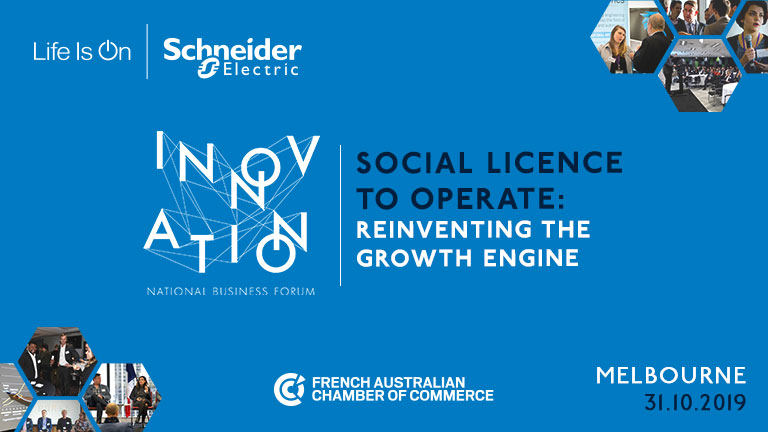 The wrap up for this year's edition of the future-shaping conferences in the business world.
Social Licence to Operate: Reinventing the growth engine is the theme for the national 2019 Schneider Electric Business Forum. Following the outstanding success of the 2018 sessions which took place in 3 locations, 2019 Business Forum took place for the first time in 5 cities across Australia: Adelaide, Sydney, Brisbane, Perth and Melbourne.
This year, Melbourne was integrated to the Forum series and delivered a spotless closure to the 2019 Schneider Electric Business Forum.
The event, during which key speakers from government, senior academic circles and pioneering French, Australian and international companies were brought together to discuss the hot topics of the current business world.
Values and Culture: Lessons from the Banking Royal Commission
Climate Change and Environmental Sustainability
Modern Slavery and Supply Chain Risk
Diversity and Inclusion
Data Protection & Privacy
AI and Automation
We were delighted to welcome among us The H.E. Christophe Penot, Ambassador of France to Australia, this series of panel discussions, keynotes and Q&As showed the French-Australian business community's crucial contribution on these important topics.
​The social impact of the private sector, as it relates to environmental sustainability, diversity and inclusion, community engagement, is a hot topic. Arguably, a company's social licence to operate is today one of its most valuable asset.
And from a public governance perspective, against a backdrop of scandals and Royal Commissions, how do the corporate world and the public sector contribute as agents of sustainable change? How do they regain community trust?
We would like to extend our appreciation to our Naming Rights Sponsor Schneider Electric, our Platinum Sponsor Engie and our Silver Sponsors Capgemini and DS Partners International, as well as our host EY for enabling this great project.
And of course, this event would have never been the same without all the attendees who actively contributed to the discussions throughout the event.