BRISBANE Companies news
New QLD-designed rocket system to boost Australian space industry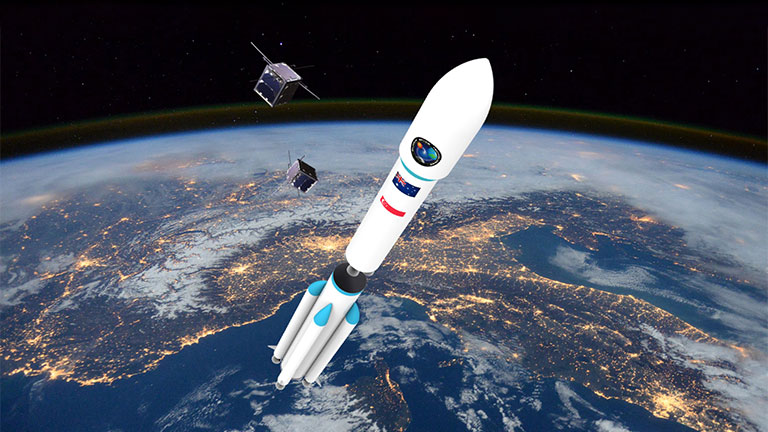 Advance Queensland Industry Research Award to support commercial space project.
QUEENSLAND, 10 JUNE 2020 - Leading Australian rocket company, Gilmour Space, and the University of Queensland (UQ) are partnering to develop new technologies for an Australian-made rocket that will be launching small satellites into low Earth orbits from 2022.
An Advance Queensland Industry Research Fellowship grant has been awarded to lead researcher Dr Ingo Jahn from the UQ School of Mechanical and Mining Engineering to work with Gilmour Space on fuel feed systems and cycles for space launch vehicles. The partnership leverages on preliminary work funded by the federal Innovation Connections program.
"2020 has been a busy year for us as we continue to develop and test the various rocket systems in our orbital launch vehicle," said Gilmour Space COO and co-founder, James Gilmour.
"We're grateful to UQ and the government for supporting our efforts to grow a space launch industry here in Queensland and Australia."
Said Dr Jahn: "Gilmour Space is pioneering the development of next-generation hybrid rocket technologies that is safer and more cost-effective than traditional chemical-propulsion rockets. It is a significant undertaking that involves many different systems, including the fuel feed system which controls the supply of oxidiser to the rocket engine."
To support the project, the Advance Queensland grant will fund another PhD researcher from UQ for three years, providing a rare opportunity for knowledge transfer and on-the-job training with a leading space company.
Minister for State Development, Tourism and Innovation Kate Jones congratulated Dr Jahn and Gilmour Space for their efforts to advance space manufacturing here in Australia.
"The Advance Queensland Industry Research Fellowship is awarded to top researchers in their fields. It is with commercial-oriented partnerships like these that we will foster close collaborations between our key industries and universities, leading to significant areas of growth for Queensland and Australia," Ms Jones said.
---
Source: Gilmour Space