BRISBANE Event report
QLD | 2021 French Australian New Zealand Business Days in Brisbane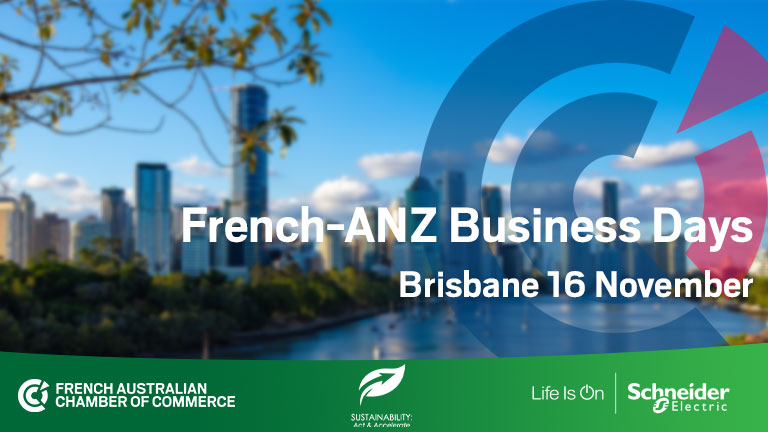 Our Queensland Chapters team was delighted to host the French Australian New Zealand Business Days in Brisbane in-person on Tuesday 16 November 2021. 
The French-Australian Chamber of Commerce & Industry Queensland Chapter was delighted to host the French Australian New Zealand Business Days in Brisbane on Tuesday 16 November 2021.
We were honoured to welcome the Hon Cameron Dick, Queensland Treasurer and Minister for Trade & Investment, Brian Lorigan, FACCI's President, Gareth O'Reilly, CEO Pacific at Schneider Electric and David Harley, Partner at Holding Redlich, our host on the day, to open the event.
The morning dedicated to 'Sustainability: Act & Accelerate' was divided in 3 conferences focussing on Net Zero Australia, the transition to a Circular Economy and Sustainable Infrastructure for Brisbane 2032 gathering panelists from stakeholder organisations involved in major Transport, Energy & Infrastructure projects. With the threat of Climate change, FACCI is committed to play its part in supporting initiatives towards a sustainable economy, fostering stronger relationships, building partnerships and driving momentum on this crucial issue.
The conferences were followed by an exclusive C-Suite Luncheon at the premises of our Corporate member Holding Redlich and a Site Visit at the Port of Brisbane.
Thanks to our sponsors: Schneider Electric, Deloitte, Government South Australia, Holding Redlich, Keolis Downer, Natixis, Transdev, BNP Paribas, Bureau Veritas, Solutions Marine & Offshores, Capgemini, ENGIE, Vinci Construction, Bollore Logistics, Fracht Australia and Manitou.
Replay of the morning sessions are available on-demand until the 31 of December 2021 via this link: https://app.swapcard.com/event/2021-french-anz-business-days.