FACCI & FNZCCI are delighted to announce the 2021 edition of the French Australian New Zealand Business Days, from 26 October to 18 November.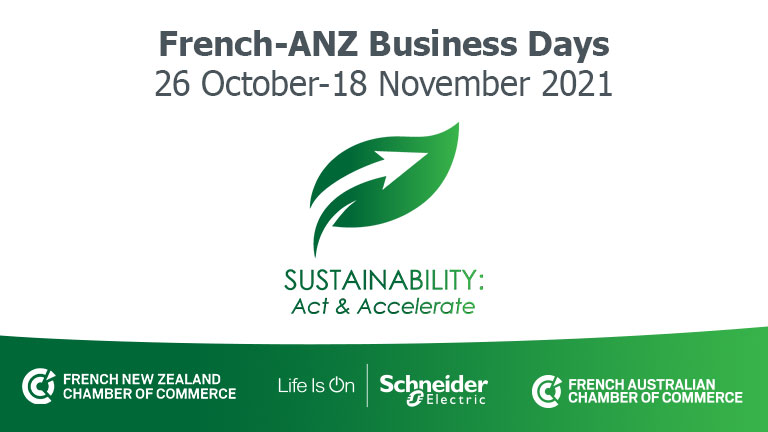 The French-Australian Chamber of Commerce & Industry (FACCI) and the French New Zealand Chamber of Commerce & Industry (FNZCCI) are proud to return with their 7th Edition of the National Business Forum in a hybrid format of both physical and virtual events. From the 26th of October to the 18th of November, FACCI & FNZCCI will host a series of thought leadership initiatives on the topic "Sustainability: Act & Accelerate."
Australia, New Zealand and France have committed to the Paris Agreement, and to the 17 Sustainable Development Goals (SDGs) from the 2030 Agenda for Sustainable Development. With the world in its present state of upheaval in response to COVID-19, established business practices are poised for change. Now is the time to re-shape our economic environment and recognise the benefits of responsible consumption and production practices in order to uphold Australia, New Zealand and France's commitments to the world at large.
With the support of our Naming Rights Sponsor Schneider Electric, this event will aggregate multi-channel rendez-vous and activations in multiple locations across Australia and New Zealand.
Hosted on the Swapcard platform, the event will deliver a qualitative and intuitive experience to online participants with the tangible feel of an in-person event. Attendees can enter the digital lobby and navigate their way past interactive exhibitor booths, with the option to connect to different conferences or network with other attendees, speakers or exhibitors.
Conferences by location:
26 October - NSW, Sydney
- Sustainability: your stakeholders are watching you
- Data Centres: engine rooms of sustainability
- Finding a pathway to Net Zero in our cities

28 October - SA, Adelaide
- Innovation and Technology, an accelerator to green growth
- Is the future of transport green?

4 November - WA, Perth
- Supply chains: case studies on building capacity in Indigenous communities
- Understanding the value of sustainability in the E&R Industry

9 November - VIC, Melbourne
- Hydrogen in the Australian Energy mix and its capacities
- Don't forget the 'S' in ESG! Diversity and Inclusion in 2021
- Consumers want more sustainable products
16 November - QLD, Brisbane
- Net Zero: an opportunity for Australian businesses
- The business case for the transition to a circular economy
- A sustainable Gold medal for the Brisbane Olympics
18 November - NZ, Auckland
- Decarbonising urban transport and industries
- How New Zealand Culture is leading the way in terms of sustainability
To be part of this event and insightful discussions, please feel free to register and join us on 26th October.
The link to the event will be sent a week prior to the event.
For any questions regarding the event, please email business.services(@)facci.com.au
OUR PARTNERS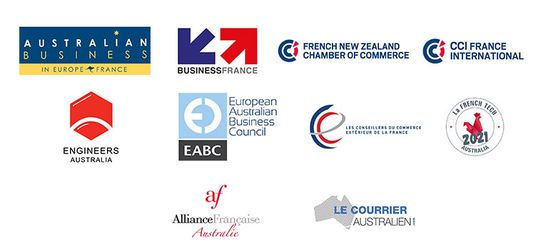 SWAPCARD ONLINE PLATFORM