After a year hiatus, our Queensland Chapter is delighted to invite you to the 2022 edition of Paul Bloxham's Economic Outlook Briefing!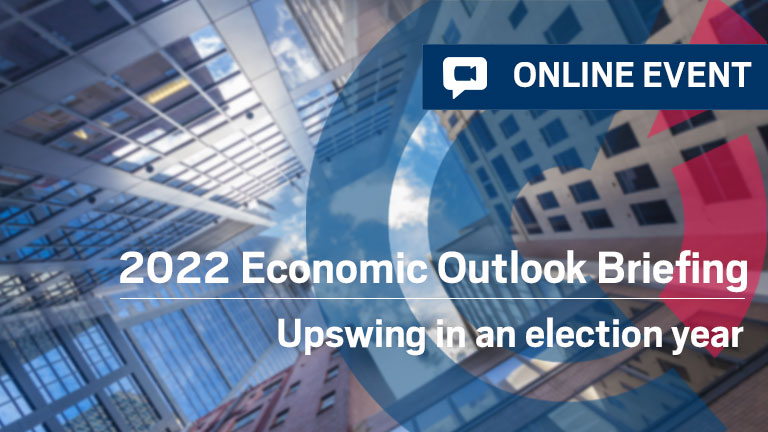 The French-Australian Chamber of Commerce & Industry is delighted to invite you to the 2022 edition of its Economic Outlook Briefing with Paul Bloxham, Chief Economist at HSBC Australia & New Zealand on Thursday 3 February from 1pm to 2pm (ASDT).
After a tumultuous 20 months, and chaotic start of the year, we look forward to connecting with you on Zoom and to hearing Paul's take on Australia's 'post-covid' recovery.
Learning to 'live with it'
After almost two years dealing with the pandemic, Australia heads into 2022 with a highly vaccinated population, a positive jobs market outlook and households sitting on massive savings, bolstered by earlier large fiscal transfers. We see a consumer-led upswing supporting well above-trend growth in 2022. Of course, it could all be upset by more variants of COVID-19, but this is not our central case. Other challenges remain too. The transition to 'living with' the virus still has some way to run. Border re-opening will take time to boost migration, deliver skilled workers and support services exports. Fiscal drag is likely, as government's spend less. A decline in housing construction in late 2022 is expected, as the previous fiscal effect wears off. The housing market is set to cool. Trade tensions with China remain in focus. And there's an election, likely in April or May. All in all, though, we expect solid growth, strong job creation and for the economy to continue to re-open more fully in 2022.
The presentation will be followed by a Q&A session.
For any enquiries, please contact claire.dupre(@)facci.com.au.