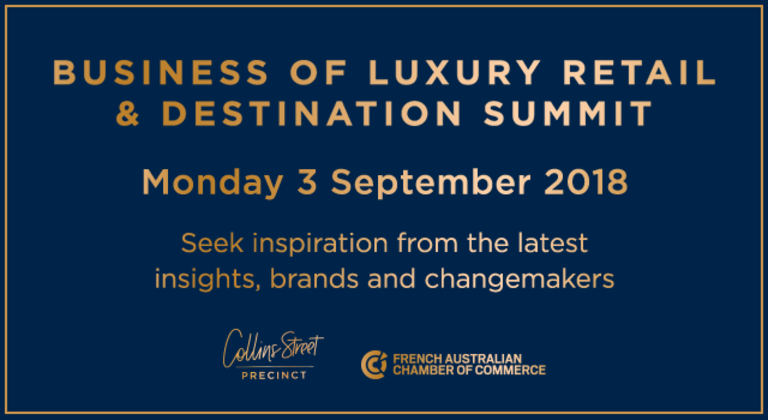 The French-Australian Chamber of Commerce and Industry (FACCI) and the Collins Street Precinct Group (CSPG) is delighted to invite you to the "Business of Luxury Retail and Destination Summit".
In the connected age, customers demand a new experience. Now is the moment to re-imagine luxury retail and destination.
Seek inspiration from the latest insights, brands and changemakers.
PROGRAM
- Introduction
- Set the scene: Evolution of the luxury, retail and destination in Australia
- The relationship between place attractiveness and retail tourism
- Making your brand special – the art of science and 'premiumisation'

Key speakers from local and international brands, government and industry.

Rates include premium canapés & drinks.
Tickets:
Members: $100*
Non-Members: $120*
*GST Not included
DISCOVER OUR KEY SPEAKERS
Master of Ceremonies
Jennifer Spark
Australian Editor, Jing Daily
Jennifer is the Australian Editor for Jing Daily, the leading authority for daily news and analysis
on luxury consumer trends in the China market. With a career in China spanning two decades and across multiple industries, Jennifer has a genuine passion and curiosity for the Chinese culture and language...Read more
Presentation of the Luxury Market in Australia
David White
National Leader Retail,Wholesale and Distribution, Deloitte
With over 19 years of providing assurance and advisory services to a range of clients, David specialises in the retail industry and leads Deloitte's National Retail, Wholesale & Distribution Group. This Group comprises retail specialists across all of Deloitte's service lines, and focuses on providing high quality advice and solutions to Australian retailers, whilst also drawing on Deloitte's global retail expertise... View LinkedIn Profile
Relationship between place attractiveness and retail tourism industry
Rodrigo Pizarro
Managing Director Australia & New Zealand, L'Oreal
Rodrigo Pizarro is an experienced senior executive with a proven track record of achievement within the L'Oréal Group. Since joining L'Oréal Portugal as a Product Manager at the very start of his business career, Rodrigo's drive for commercial excellence and flawless execution led to him to being appointed many high profile assignments in Portugal, France and Brazil…Read more
Graeme Lewsey
President of Virgin Melbourne Fashion Festivaly
Graeme has led the Festival and its world-class team to new heights, achieving outstanding results since his appointment as Chief Executive Officer in 2011.

Graeme is a proud Melburnian. After graduating from his Bachelor of Arts Degree at RMIT University and briefly designing for his own fashion label, Graeme was awarded 'Australian Young Designer of The Year' by The Woolmark Company....Read more
Making your brand special
Katie Somerville
Senior Curator, Fashion & Textiles, National Gallery of Victoria
Katie Somerville is the Senior Curator of Fashion and Textiles at the National Gallery of Victoria. Katie has worked with a range of fashion and textile collections for over 25 years. Katie joined the curatorial department at the National Gallery of Victoria in 1995. She currently manages the research and development of the collection and the ongoing program of publications and exhibitions for the Fashion and Textiles Department....Read more
Susan Dimasi
Founder & Director, MaterialbyProduct
Designer and artisan Susan Dimasi is the Director of fashion house MATERIALBYPRODUCT. She established the brand in Melbourne in 2003. Since its inception, Dimasi has consistentlydelivered collections described by fashion commentators as a "seamless blend of fashion and art". Dimasi's work is informed by her long apprenticeship in men's tailoring evident in signature stitching and high quality construction built on a fabric palate of silk, leather and wool... Read more
Natalie O'Brien
Director, Natalie O'Brien & Co
Natalie heads up Natalie O'Brien &Co. Natalie was at the helm of the Melbourne Food and Wine Festival and Food and Wine Victoria for the last 16 years. Natalie possesses strengths in strategic planning and has demonstrated year on year growth and contribution to economic impact, visitation and brand profile nationally and internationally to achieve the vision. Natalie was recognised among 'Australia's 50 most influential people in food...Read more.