Companies news
Egis opens its doors to Brisbane and the future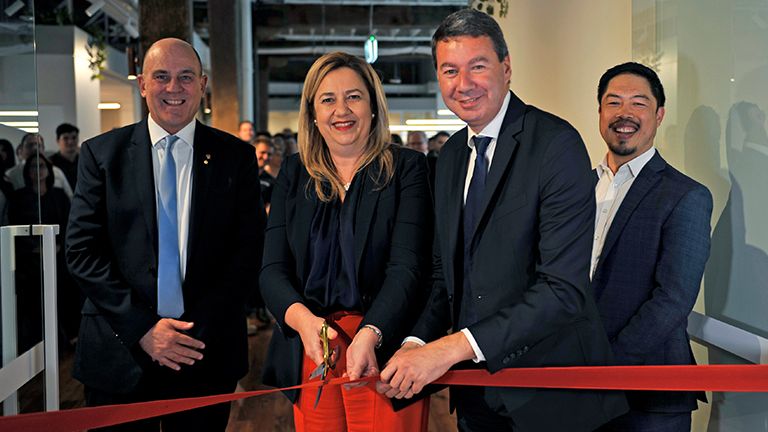 Egis officially opened its new Brisbane office, in the presence of The Honourable Annastacia Palaszczuk.
The opening of the new Egis office was held in the presence of The Honourable Annastacia Palaszczuk, Premier of Queensland and Minister for Olympic and Paralympic Games, who cut the ceremonial ribbon alongside Laurent Germain, Egis CEO, and Matt Allan, Australian Olympic Committee Vice President.
Admiring the heritage building, Premier Palaszczuk commended Egis for their commitment in "preserving the city's history while contributing to its growth". With the state continuing to attract a high number of new residents, sustainable design and maintaining the culture and vibrancy of the city is a high priority.
The 2032 Brisbane Olympics was front of mind, with Egis recently announced as an official partner of the Australian Olympic Committee.
Reflecting on the journey to Brisbane 2032, Matt Allan shared the highs and lows of bidding for the Olympic Games, and the immense excitement felt by all when Brisbane was announced as the 2032 host city.
Visting from Egis' global head office in France, Laurent Germain agreed that hosting the Olympics is an opportunity for Queensland, with long term benefits from the investment in infrastructure and facilities to be felt by everyone for decades to come.
Egis' vision in Australia and New Zealand is to create "Joyful Connected Cities", where communities are well connected, sustainable and long lasting.
With the ribbon cut and the Egis Brisbane office now open, the focus is on bringing this vision to life in Queensland.
---
Source: Egis