Tenders & Business opportunities
Future Submarine Program: EOIs are open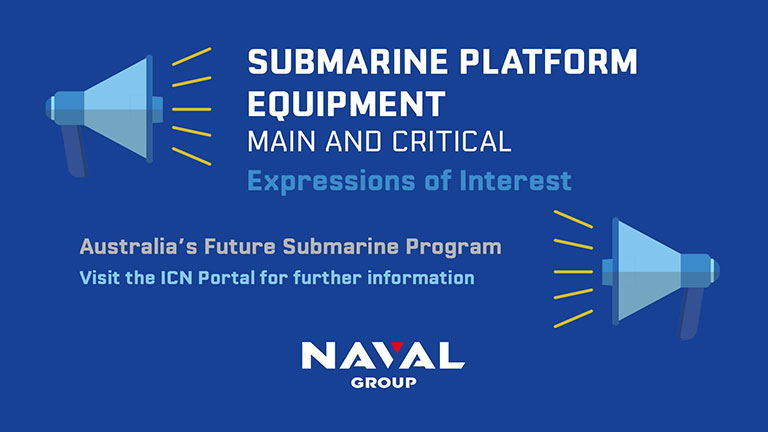 Expressions of Interest (EOIs) are open on the Industry Capability Network (ICN) for Submarine Platform Equipment (Main & Critical) suppliers for the Future Submarine Program.
Naval Group is seeking expressions of interest from companies who may have the capability to design, manufacture and supply the following:
Exhaust valves
Anchor and anchor chain
Fairleads
Bollards
Towing hook
Grease production Unit
Acoustic Pinger
Rescue Buoy
Fire Detection Station
Seawater Cooling Filter
Uninterrupted Power Supply (UPS) and Emergency Primary Switchboard (EPS)
Sewage Pump
Galley Equipment
Regulation flooding pressure reducers
Electro-chlorination unit
Regulated water heat exchanger
Shore connection board
Heat exchanges for battery cooling
Hydrogen and Carbon Monoxide Burner
HP Air Compressor
Automation Units
Degaussing System
Chillers
Anechoic Coating
HP Air Cylinders
Pumps
Auxiliary Propulsion System
Windlass
Capstans
Lead Ballast
The closing date for the above Expressions of Interest is 6 June 2019.
The information released is a broad description of the functionality that is required, not a detailed specification. Once potential companies are identified there will be a process to short-list those that are able to participate in a formal tender. Further information will be released to companies that are short-listed.
It is recommended that potential suppliers submit a general registration of interest on the ICN database alongside any specific EOI application so they can be considered for relevant future engagement opportunities.
To submit an expression of interest and receive further information, please visit the ICN Gateway and register for the Future Submarine Program.
Contact Naval Group Industry & Innovation Team: communications.team(@)au.naval-group.com
---
Naval Group Industry and Innovation Portal The Naval Group Industry & Innovation Portal is a space for sharing ideas and information regarding the Future Submarine Program.
Source: http://naval-group.com.au/