MELBOURNE Companies news
Garcon Paris Steakhouse becomes Bistro Garcon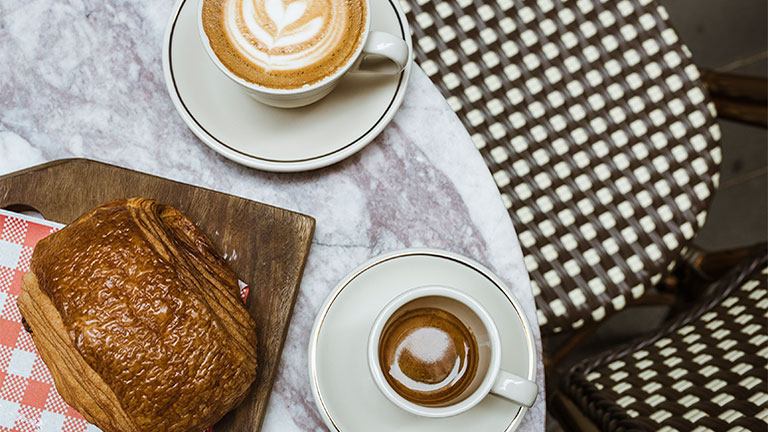 The French restaurant has been reborn as Bistro Garcon, bringing Parisian bistro vibes, French hip-hop and a new managing partner to the place.
Hamish Goonetilleke from the Liquid Living Group, who's behind bars Beneath Driver Lane and the Rum Diary Bar, has joined existing owners Joseph Alesci and Donato Ravida in this new-ish venture. Daniel Dobra (ex St Ali) is on board as head chef.
The 100-seat, split-level space, which previously housed both Entrecote and Prix Fixe, has been divided into restaurant and bar. Downstairs, in the bar, they've opted for lighter tones and installed booths with built-in ice buckets.
The restaurant, separated from the bar by a short flight of stairs, a portrait of Kate Moss and ribbed glass screens, has been decked out in charcoal shades and dim, moody lighting.
Dobra's menu is French bistro classics brought into the modern era. He said:
"I'm not here to reinvent the wheel, I'm here to give reverence and provenance to the classics."
Dishes include oysters with champagne granita, a retro prawn cocktail modernised with miso oil, whipped duck liver parfait and steak with proper sauce Diane. In the bar, there's beef tartare with wafers, a truffled grilled cheese sandwich and frites with salt-and-vinegar mayo.
As well as French and Australian wines, try Bistro Garcon's take on a spritz made with the bitter Venetian aperitif Select and blanc de blanc, or their take on an Espresso martini made with Rum Diary spiced rum, Mr Black liqueur, espresso and dulce de leche.
Bistro Garcon opens daily from noon, although takeaway coffee can be bought from the coffee window from 6.30am.
---
Source: GOOD FOOD - Garcon Paris Steakhouse becomes Bistro Garcon