Communication - Press Finance - Assurance - Banque
HSBC Australia: Doing business in Australia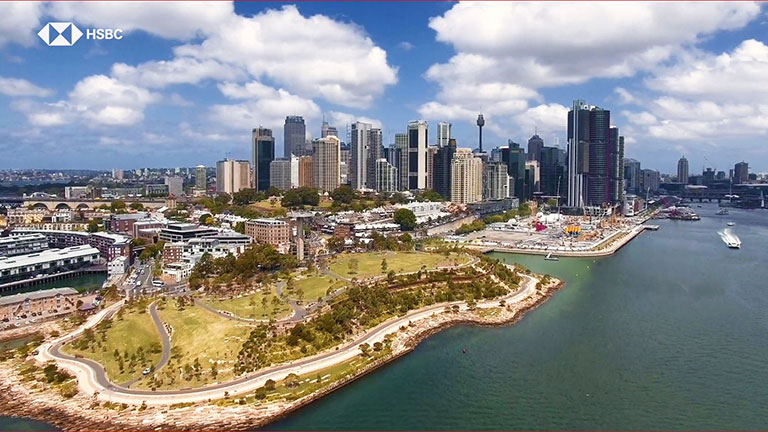 With uncertainty in the global economy, multinationals are looking to Australia as a safe haven. HSBC explains why Australia is an attractive place to do business and a great place to live.
As the sixth biggest country1 and 13th largest economy in the world2, Australia is very important to the global economy. It is also a great place to live with Sydney, Melbourne and Adelaide recently voted in the top 10 most liveable cities in the world3.
Australia is an attractive place to do business due to political stability, a transparent legal system and a welcoming attitude towards foreign investment across a wide variety of sectors and assets. As a world leader in championing free trade with Free Trade Agreements with our major trading partners4 and the strongest trade links with Asia of any OECD country5.
HSBC has operated in Australia for over 50 years and has corporate offices in 5 cities across the country. Our International Subsidiary Banking (ISB) business provides a consistent global banking experience to our clients. Our Australian ISB team supports International Subsidiaries operating in the Australian market by understanding their needs and supporting their growth. Watch the video, and visit business.hsbc.com.au/isb to find out more.
---
1 http://www.ga.gov.au/scientific-topics/national-location-information/dimensions/australias-size-compared
2 https://www.austrade.gov.au/international/invest/why-australia/growth
3 https://www.economist.com/graphic-detail/2018/08/14/vienna-overtakes-melbourne-as-the-worlds-most-liveable-city
4 https://dfat.gov.au/trade/agreements/pages/trade-agreements.aspx
5 https://dfat.gov.au/about-australia/australia-world/Pages/trade.aspx