Companies news
Mazars announces a new partner and two senior promotions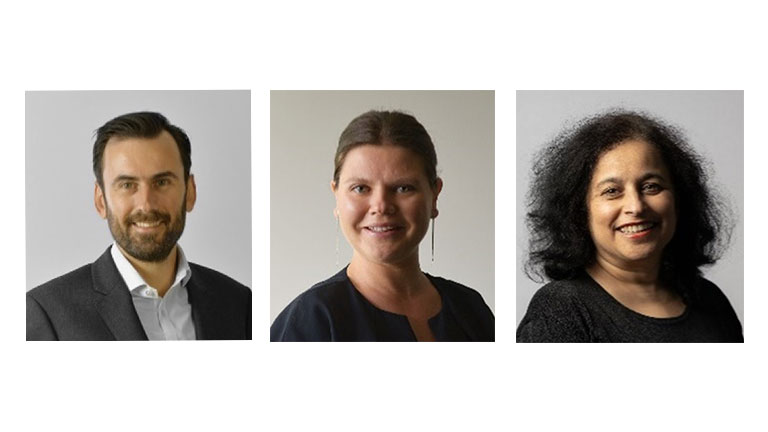 The international audit and advisory firm, Mazars, appoints a new audit and financial advisory partner and two Associate Director promotions
Mazars appoints Alexis Aupied, Director and Treasurer of the French-Australian Chamber of Commerce (FACCI) as new Audit and financial advisory partner. The firm announced on the same occasion the promotion of Uliana Subbotina and Padmini Dixit as Associate directors. The promotions reflect the ongoing commitment to deliver high quality bespoke services to clients and develop the careers and capabilities of their people.
Melbourne Managing Partner, Richard DeBono comments:
"We're delighted to welcome Alexis to the Mazars team, his experience servicing a broad range of clients from private companies to international listed groups will further support the delivery of exceptional and tailored audit and transaction services to Mazars' clients. I would also like to congratulate Uliana Subbotina and Padmini Dixit on their promotions to Associate Director. It's fulfilling to celebrate these promotions, which reflect not only the growth of our people but also the diversity and culture of the firm."
Alexis Aupied joins as a Partner in the audit and financial advisory divisions
joins the Mazars' Melbourne office as a Partner in the audit and financial advisory divisions with 14 years' experience as an audit advisor. Alexis' breadth of experience accumulated in Europe, Oceania and Asia adds significant value to the firm and its clients.
Uliana Subbotina becomes Audit and assurance Associate Director
Through 15 years' experience in public practice Uliana has developed significant technical expertise in the delivery of assurance and financial reporting services across a wide variety of private and public entities from diverse industry sectors. Providing value through her insights, Uliana skilfully delivers the technical rigour of audit services with a care and understanding that our clients expect.
Padmini Dixit is promoted to Associate Director - AOS
Padmini joined the Mazars partnership in 2018, bringing with her 17 years' of industry experience, 13 of which specialised in global outsourcing. Padmini's expertise lies in the areas of accounting and tax compliance, payroll, corporate secretarial services and outsourcing for multinational corporations
Managing Partner of the Sydney office, Jim Mascitelli concludes:
"These individuals have grown as leaders and bring strength to our organisation. We're delighted to acknowledge their dedication and welcome them to our leadership team."
---
Source: Mazars