SYDNEY Interview • Testimonials
Meet our Small Business Member: My Dream Adventures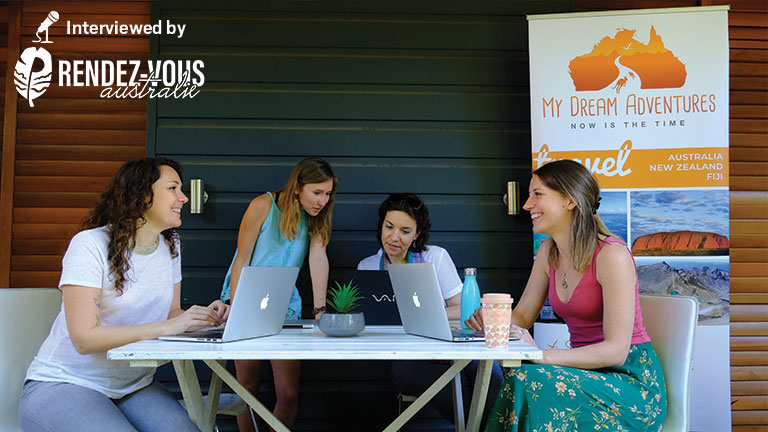 Meet our member, Jeanne, Founder & Managing director of My Dream Adventures with an interview conducted by our media partner Rendez-Vous Australie.
Jeanne is the founder of My Dream Adventures, a boutique travel agency located in Sydney and operating Australia wide. The French-Australian, who grew up in Australia with French parents consumed by wanderlust, explored the country and its neighbours from her youngest age. That's how she developed a deeply rooted passion for travel. She launched My Dream Adventures in 2017 after ten years of experience in the tourism industry. It has always been a dream of hers to share her passion and expertise with foreigners and locals alike. The entrepreneur joined the New South Wales network of the French-Australian Chamber of Commerce and Industry in 2020. Rendez-Vous Australie, in partnership with the French-Australian Chamber of Commerce and Industry, met with Jeanne.
Jeanne, could you tell us more about My Dream Adventures?
"My Dream Adventures is a travel agency specialising in custom-made adventures across Australia, New Zealand and Fiji. We are also specialists in conscious travel, one of our core values that is at the heart of everything we do. We offer the opportunity to travel consciously by favouring eco-certified experiences and accommodations, as well as recommending indigenous cultural experiences. Furthermore, we are really involved in the preservation of our destinations and in sustainable tourism's promotion. We share our passion for travel - and even more for responsible travel - as well as our expertise in these 3 destinations to our clients. Our team has travelled our destinations from top to bottom, we really know them very well. We have local knowledge as we have been here for a long time, so we can offer advice from insiders."
You joined the chamber in NSW Chapter in 2020, how does it help you?
"We developed several partnerships, and the one with FACCI is great for giving us exposure within the francophile community. It helps us promote our services to many people. It is perfect to gain wider visibility."
From your experience, what advice would you give to those who want to start their own business in Australia?
"First, really think about "why you start a business" - and always keep that "why" in mind. As a young entrepreneur we tend to say yes to every opportunity on our way and it is not necessarily constructive. You have to keep your why in mind and think carefully about what will help you achieve your goal. Do not say yes to everything. Also, as an entrepreneur, you need adaptability - and even more today. Sometimes it is essential to approach issues from a different perspective for the survival of your company. Another key point here is to always surround yourself with good people, who share the same values and a common interest in the company vision. On a more pragmatic side, in Australia, there are quite a few online resources available for entrepreneurs. We often referred to the government website which has a lot of interesting resources, including several hours of free business advice. Since Covid, even more hours of business coaching have been offered to help survive the pandemic."
In your opinion, what are the main travel practices in Australia?
"Australia is the country of road trips, camping and adventure. I remember how we used to go camping in the middle of the bush with my parents when we were kids. When you visit a country like Australia, the museum is not the number one place you will have on your to visit list - even if there are many great ones. People come here for the open-air museums such as the Great Barrier Reef, ancestral forests, rock art (aboriginal art on rock). Not forgetting of course the unique wildlife, fauna and flora. Things you will not see anywhere else. It is a country of outdoor travel. At My Dream Adventures, we also noticed that Aussies are reinventing adventure tourism by adding a luxury twist to their outdoor adventures. They are used to basic camping and long road trips from their childhood, so as they grow up they seem to seek unique premium experiences in the wild. We, therefore, have a large offering of glamping and eco lodges in Australia. It seems that the outdoor adventures mixed with premium experiences help develop a rather luxurious responsible travel."
What are your projects for My Dream Adventures?
Our objective is to lead the most trusted and conscious travel agency specialising in custom-made adventures across Australia, New Zealand and Fiji. We would like to educate travellers, encourage them to adopt good practices and to always keep in mind the following question when travelling: "Why should we consciously travel to these destinations? To protect their environmental and cultural beauty."
Jeanne, what is your next rendezvous?
It will be one of our staff meetings. We are a very solid and united team. We all work remotely. We discuss the development of My Dream Adventures regularly, especially during the Covid period.
---
Interview conducted by Laura Gabrel for Rendez-Vous Australie & the FACCI on the 1st of November 2021.