BRISBANE Interview • Testimonials
Meet our Small Business Member: Snap Geebung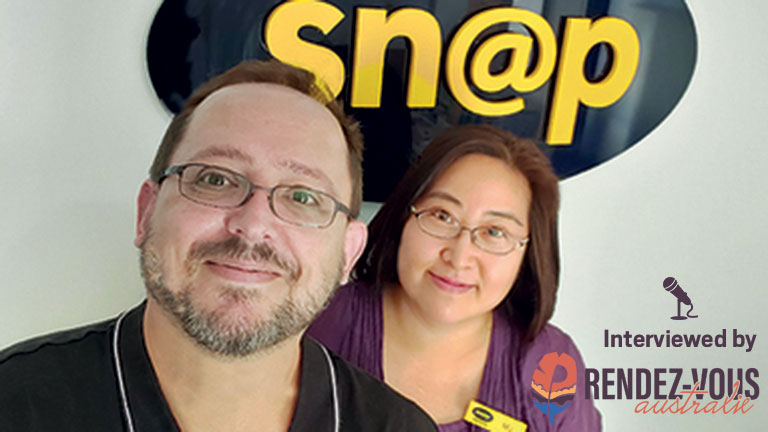 Meet our members, David Vial and Mijin Park, co-owners of Snap Geebung, with an interview conducted by our media partner Rendez-Vous Australie
Mijin Park and David Vial are the owners of a small business located in the north of Brisbane. They joined the Queensland network of the French-Australian Chamber of Commerce and Industry in 2020. This multicultural couple, that has mastered three languages, met in Brisbane. David is a former visual arts teacher. He has inherited his parents' French southern accent, but he was born and raised in Brisbane. Mijin left South Korea when she was 16 to move to France, where she studied art and worked as a researcher until she moved to Australia. Nearing their fifties, Mijin and David have felt the need to change their respective positions and to take the plunge into owning their own business. Rendez-Vous Australie, in partnership with the French-Australian Chamber of Commerce and Industry, interviewed them.
Mijin & David, could you tell us more about your business, SNAP Geebung?
"SNAP is an Australian franchise, which was set up in Perth (Western Australia). There are more than 145 centres in Australia and the company is also established in China, New Zealand and Ireland. We help businesses and individuals develop their communication on all types of media thanks to our expertise in printing techniques and graphic design. From business cards to merchandising, to signage and vehicle graphic, we provide a wide range of services. We became part of SNAP franchise network in 2015 when we took over the SNAP centre in Geebung industrial area – north of Brisbane."
You joined the Queensland FACCI network in March 2020. Why did you become members?
"As business owners, we have been members of several business networks and clubs, including the Brisbane North Chamber of Commerce. Furthermore, many of our clients, such as the company Duons, have been members of the Brisbane FACCI network. There was a lot of positive feedback and since we are both francophones, we decided to join it as well."
How does it help you?
"We manage a small business, into which we invest a lot of our time. We are the front line faces of our business, which means we both handle our customers' orders and welcome them there (from Monday to Saturday midday). In other words, we are very busy and do not have a lot of time outside our working hours to meet people and build new relationships. Being FACCI members helps us overcome this difficulty, especially through the Tchin-Tchin events! Despite the disruptions caused by the current health crisis, we have had the chance to meet regularly with our peers and above all to develop friendly relations around common interests. This is vital for us. Not to mention that we are always received warmly by the FACCI team and the buffet is delicious [laughs]."
From your experience and your biculturalism, what advice would you give to French entrepreneurs and employees that are about to move to Australia?
David: "I think it is important to approach others with humility, to respect their boundaries and to adjust your expectations. Australians are as proud as French people. In their opinion, "made in France" does not always guarantee quality. Your project might get rejected or you might feel a lack of recognition without detailed explanations, so you need to be prepared for any eventuality. You should also be aware that Australians favour consensus, or even unanimity, in their decision-making process. Of course, this goes against the French tradition of encouraging individuals to clearly state their opinion, even when diverging. This can become an issue because Australians do not like opposition. Since I was raised by two French parents, this is something I have always found difficult to manage in my private life and in my career in Australia."
Mijin: "It is also worth noting that French people are quite efficient when they arrive in Australia. They are very keen to succeed and do things well. We can feel it. I also think that they are better equipped to deal with criticism in a working environment. They accept it much more easily and take the appropriate corrective action."
In your opinion, what are the expectations of Australian customers?
David: "The price is a major component for Australians. As is the "made in Australia"."
Mijin: "That is true. However, it should be noted that their needs change and they certainly appreciate the quality of goods and services. At SNAP Geebung, we know that we are not the cheapest. But our clients value our conscientiousness and know-how."
David: "I would add that you need to stay simple and genuine when dealing with Australians. Authenticity is an essential requirement to develop and maintain long-lasting relationships with clients."
Mijin & David, what is your next rendezvous?
"This weekend! We are going to discover the magnificent landscapes of the Gold Coast Hinterland from a hot air balloon. And more seriously, we are waiting for a new machine that will give us the possibility to laminate different types of media with gold and silver foil."
---
Interview conducted by Alexandra Monneret for Rendez-Vous Australie & FACCI on 8 October 2021.
For more information, please feel free to contact Mijin or David by email.