Meet the 3 federal leaders of FACCI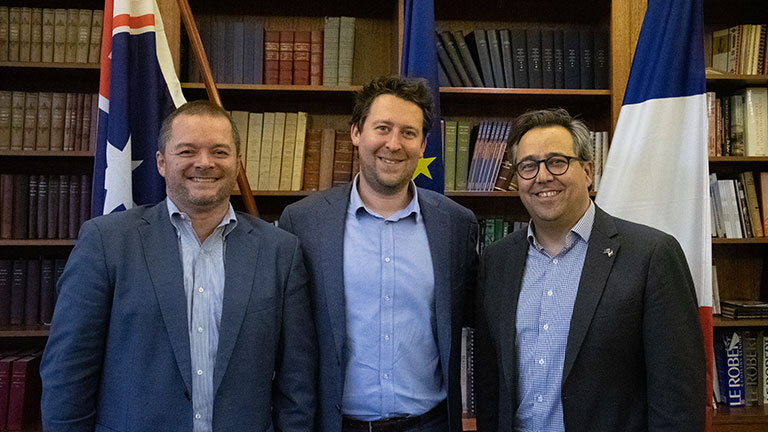 Discover the exclusive interview of Frank Ribuot, Jérôme Fournand and François Romanet with Le Courrier Australien.
In an exclusive interview with Le Courrier Australien, Frank Ribuot, François Romanet and Jérôme Fournand, respectively Federal President, Chairman of the Advisory Council, and General Manager of the Operational Team, present their role, projects and ambitions to promote commercial relations between France and Australia.
In addition to the operational team, FACCI is advised and led by an advisory council and a board of directors .
The Advisory Council, is composed of the French Ambassador to Australia, French-Australian personalities and leaders of major companies, who guide the Chamber in its strategic planning
The Board of Directors, is composed of members elected in each State, who make strategic choices and supervise the functioning of the Chamber,
The Operational team, is composed of experts, who lead the organisation and ensure its smooth running.
These three complementary entities have only one objective: to help French and Australian companies develop their activities.

3 prestigious leaders
Jerome Fournand,
General Manager of the French-Australian Chamber of Commerce and Industry
After working as Key Account Manager in marketing and monitoring technological innovations for seven years and three years as a sales representative at GDR Group, he takes the role of Operations Director for three years at GDR Group. An opportunity for General Manager of the FACCI operational team presents itself - Jérôme takes it and takes up his position in March 2019. Since then, he has managed the team, but he is also the interlocutor within the "Team France" (the Embassy, the Consulate, the Alliance Française, the CCEF, Business France...), capital in the evolution of the FACCI. Not to mention the organisation of events, the search for new members and support in the development of their business in Australia.

Frank Ribuot
Federal President of the French-Australian Chamber of Commerce and Industry
With an impressive international career path , Frank is now the CEO of Randstad in Australia, New Zealand, South East Asia and India. Frank has over 20 years of experience in operations, general management and human resources consulting, predominantly in the Asia Pacific region having lived in China, Malaysia, Australia, Singapore and having extensively travelled throughout the rest of the region.

Francois Romanet
Chairman on the Advisory Council of the French-Australian Chamber of Commerce and Industry
Former Federal President of FACCI, Francois first worked in the United States and then in France before moving to the mainland in 2004 to create a subsidiary of Safran, a group he headed until 2017. Following the submarine project, he joined Naval Group in September 2017, and now covers Australia & New Zealand as President & General Delegate.
3 complementary teams for a common goal
Working in collaboration with Team France, one of the main challenge of the Chamber is to maintain a common vision among all States. While the three leaders must ensure that this is the case, it is above all Frank who is responsible for this mission:
"As President, I must ensure a common direction [...] while keeping some of the specificities of each State. I must also ensure that I have friendly and constructive relations with all other French and Australian authorities while showing the Australian market what France is doing. FACCI is not a French-French Chamber but a Chamber open to foreigners as well. I must therefore ensure a link with our advisors, our Board and the other institutions [...]", Frank said.
French-Australian relations have never been stronger
"Over the past 15-20 years, more and more French companies of all sizes have successfully established themselves here; similarly, many Australian companies have established themselves in France," explains François. "Part of the French motorways is managed by an Australian company, for example. This increase is not unilateral"
Read the full interview from Le Courrier Australien.
---
Source: https://www.lecourrieraustralien.com/portraits-croises-des-trois-nouveaux-dirigeants-de-la-facci/