Event report
NSW | 2019 Schneider Electric Business Forum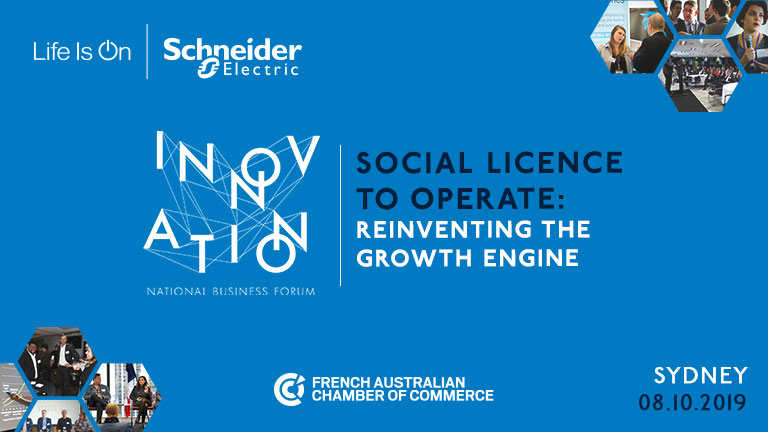 FACCI was delighted to organise, for the 5th edition, the 2019 Schneider Electric Business Forum about the Social Licence to Operate.
On Tuesday 8 October, the FACCI 2019 Schneider Electric Business Forum took place in Sydney, after a great launch in Adelaide.
This year's theme: Social Licence to Operate: Reinventing the growth engine gathered high profile speakers from the government, senior academic circles, and pioneer French, Australian and International companies.
During this half day event, 29 speakers discussed, during 6 sessions, topics around the French-Australian Bilateral Relationship, Values and Culture: Lessons from the banking Royal Commission, Climate Change and Environmental Sustainability, Modern Slavery and Supply Chain Risk, Diversity, Inclusion & Community Engagement and Data protection & Privacy - AI & Automation: Impact on Workforces.
We were very pleased to have among us the Ambassador of France to Australia, The Honorable Christophe Penot, for great Introductory Remarks on French-Australian Relations.
Plus, we had the chance to receive the MEDEF international delegation and hear from Hervé Guillou, Chairman of the France-Australia Business Council of MEDEF International, Chairman and CEO of Naval Group, Luc Rémont, Executive Vice-President International Operations, Schneider Electric, Christophe Lecourtier, Chief Executive Officer, Business France, Bruno Charrade, Deputy CEO International Zone, Transdev, among others.
Our guests were able to enjoy some networking times between each session around food and drinks.
We would like to express a warm thank you to our Naming Right sponsor Schneider Electric and to our Platinum sponsor Suez, as well as our silver sponsors, Baker McKenzie, Capgemini, DS Partners International, Le Courrier Australien and McCullough Robertson.
Thank you to EY for hosting this event and their great catering and to Team France for their support.
---
Check out all the pictures of the event on our Facebook album