BRISBANE Companies news
Transdev's 100% sustainably powered e-bus to hit Queensland roads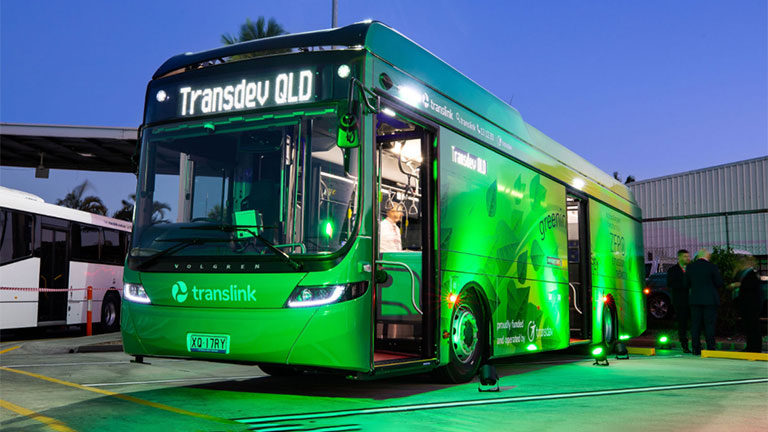 Public transport operator Transdev Australasia is delivering Australia's first 100% sustainably powered electric bus to Queensland.
Australia's first 100% sustainably powered full-size electric bus has been delivered to Brisbane. Global e-mobility leader Transdev will operate a new 39 seat e-bus on TransLink routes throughout Brisbane and the Redlands under a two-year partnership with the State Government.
Transdev Australasia CEO Luke Agati said the bus would be 100% powered by sustainable solar energy, with the company installing a new Green Mobility Megawall, comprising of 15 Tesla Power Walls, and Solar network at its Capalaba Depot in Brisbane.
"Averaging more than 280 days of sunshine per year, Queensland well and truly lives up to its reputation as the Sunshine State, and we are excited to be bringing this clean, green, modern vehicle to Brisbane and the Redlands," Mr Agati said.
New Australian-Made e-buses driving greater opportunity for local manufacturing
Joining the Queensland electric bus, another 3 zero-emissions electric buses on order from Transdev have been rolling off the production line at Volgren in Dandenong (Victoria) in the past month and are now operating in Melbourne and Sydney.
Transdev Australasia CEO Luke Agati said the decision to manufacture the buses locally was an acknowledgement of the skill and expertise of Australia's local bus manufacturing sector.
"Australia is on the cusp of an e-mobility revolution in public transport," Mr Agati said.
"We want to see more Australians travelling on zero-emissions electric and hydrogen powered buses, and we want Australian bus manufacturers to lead the journey with us, so communities like Dandenong benefit through more investment in local businesses and more local jobs."
Volgren's Chief Executive Officer, Thiago Deiro, says the company's internal zero-emission transition owes much to Transdev and the faith they've shown in Volgren.
"The first e-bus delivered to Transdev gave us the knowledge and know-how to adjust not only our product but also our production facilities. All that learning resulted in a much more efficient design and building process," Mr Deiro said.
Mr Agati said supporting local jobs was a major factor in Transdev choosing to partner with Volgren, with the company employing 172 Victorians, both direct and indirectly, with over 70 jobs also supported in NSW and Queensland.The four new electric buses join Transdev's locally made Volgren electric bus which was introduced onto Melbourne streets in late 2019, and was Victoria's first electric bus in operation.