Event report • Gala and evenings
VIC | Gala Dinner 2019 - La Belle Epoque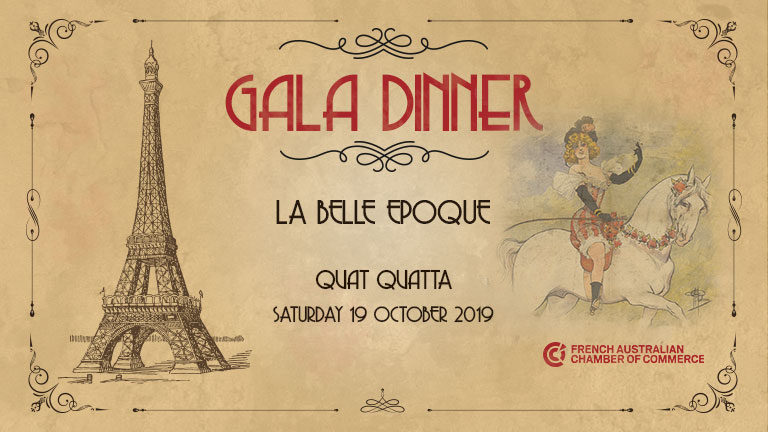 The Gala Dinner that captivated you in celebration of FACCI's 120th Anniversary.
Our Gala Dinner is the highlight of FACCI's social calendar and the height of French sophistication. The red carpet rolled out for our guests as we welcomed them with champagne and delicious "amuse-bouches".
This year, in celebration of FACCI's 120th birthday, we had put together an unique event that took you back in time to the exquisite era of classical French sophistication known as "La Belle Epoque". The Golden Age of high artistic and cultural development in France. The time when the magnificent Opera of Paris was in full bloom and the world-famous Eiffel Tower came to life!
The Gala Dinner 2019 dressed itself with the glamour of parisian Golden Age and was inspired by the parisian icon, Moulin Rouge. This year, the aim was to take the event one step further and endulge you into the captivating ambiance of the French Belle Epoque with live entertainment, Edith Piaf cover, piano and a Can Can performance!
Our venue, the Quat Quatta Victorian Mansion, built during the opulence of the Australian gold rush era, meticulously presented the perfect setting for this night's theme as a seamless blend of classic and contemporary, and draws the perfect parallel between the two periods.
Dive into the Belle Epoque period with us, and check out all the pictures of the event in this album!
---
Thank you to our Gold Sponsor Bouygues Construction Australia, to our Silver Sponsors Ambassade de France en Australie, Club Med, Myconian, Anantara, Aircalin, , Nouvelle Caledonie Tourism and Ramada.
Thank you to our Product Sponsors Avene, Delphine Genin, Entrecote, Fine French Food, France-Soir, Franck Provost, Frenchilicious Kitchen, Gault&Millau, Global Ballooning, Le Jacquard Francais, Klorane, La Belle Miette, Le Pot De Moutarde, M. Chapoutier, Melbourne Sympohony Orchestra, Simone Perele and Victorian Opera.