Event report
VIC | Tour de France Lunch 2019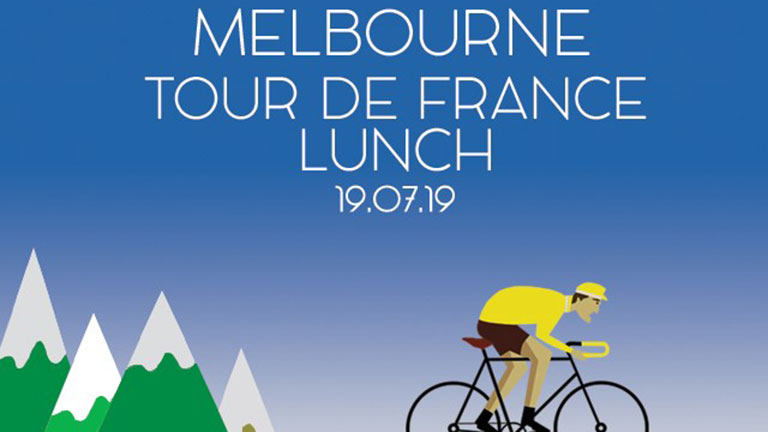 This year we celebrated the 100 year anniversary of the Maillot Jaune (Yellow Jersey).
Created 16 years ago, in collaboration with famous French chef Gabriel Gaté, the renowned cookbook author, teacher and television presenter, we shared the ambition to bring together cycling lovers and food and wine enthusiasts, and so the Tour De France Lunch was born.
On Friday 19 July 2019 we had the pleasure to host our Tour de France Lunch at the Peninsula in Docklands. With about 400 attendees we were delighted to see so many long-time friends but also many new members. It was a fabulous to have the participation of Dr Bridie O'Donnell, Victorian government Director of Women in Sport and Recreation, John McDonough COO at Cycling Australia, Tracey Gaudry, Management Committee Union Cycliste Internationale, President UCI Women's Commission and President Oceania Cycling Confederation, Simon Jones, Performance Director, the Australian Cycling, Wes Sulzberger, Zwift Country Manager Australia & New Zealand, Carlee Taylor, Member Experience, Zwift and all the other distinguished panellist and cyclists.
We had remarkable feedback on the gourmet lunch designed by Guillaume Sauvetre, Head Chef at Chez Bagou's restaurant, and hope you enjoyed all the entertainment including the Zwift bicycle race. As always, you have been very active in the silent auctions. Thank You, it makes a difference.
Thank you to our main sponsors Bouygues Construction, GHD.
Thank you also to our ongoing sponsors Aircalin, Nestlé Nespresso SA, Calendar Cheese Company, Gontran Cherrier, Perrier, Zwift, Cycling Australia and Cycling Victoria.
We also would like to acknowledge our new sponsors and look forward to a long lasting partnership: Premax; DiscoverVin; Château Royal Beach Resort & Spa, Champagne Philippe Fourrier, Bikebug, DiscoverFrance.com
For riders willing to participate in the fight against cancer, you can contact our charity partner Tour de Cure and Co-founder Geoff Coombes who will tell you all about the Tasmanian Peter Mac Ride 2019 – 14th to 18th November on https://tourdecure.com.au - there are few spots available.