PERTH Event report
WA | Meet the L'Astrolabe Crew - The French icebreaker chooses WA to conduct essential maintenance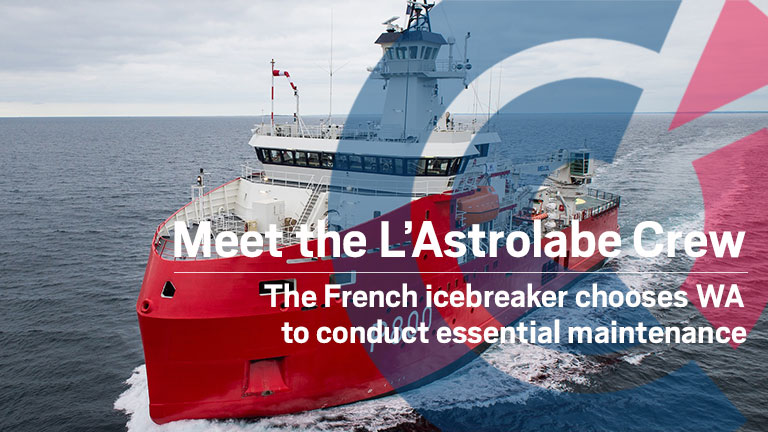 Our Western Australia Chapter was delighted to welcome our members and friends to its event on the French Navy polar vessel L'Astrolabe.
We were pleased to host our exclusive event dedicated to the L'Astrolabe and the maintenance carried out by WA-based businesses, on Thursday 21 October at the DoubleTree by Hilton Perth Waterfront.
Alban Simon, L'Astrolabe Commanding Officer, provided insights on the vessel missions in Antarctica, located at the Dumont d'Urville scientific Station. This icebreaker ship carries supplies and people to the station from the port of Hobart, Tasmania doing usually five trips between November and March.
We thank our insightful speakers: Blake Pilgrim, Head of Production Operations & Transformation at BAE Systems, Craig Vandepeer, General Manager at Australian Marine Complex, and Simon Bell, Director Infrastructure Development at JTSI, for presenting and explaining the maintenance operations performed on the L'Astrolabe in Henderson, before continuing its annual Antarctic resupply mission.
Our FACCI WA is proud to see that capabilities in maritime maintenance are strong in WA.
The event also featured crew member interviews and exclusive videos of the vessel produced by the talented Tessa MacVideo.
Special thanks to our sponsor The French Consulate in Perth, and to our facilitator for the evening, Jerome Monteiro, FACCI WA President.
We look forward to seeing you again at our future events!