Communication - Press
WA | Team France - Mining French Trade Mission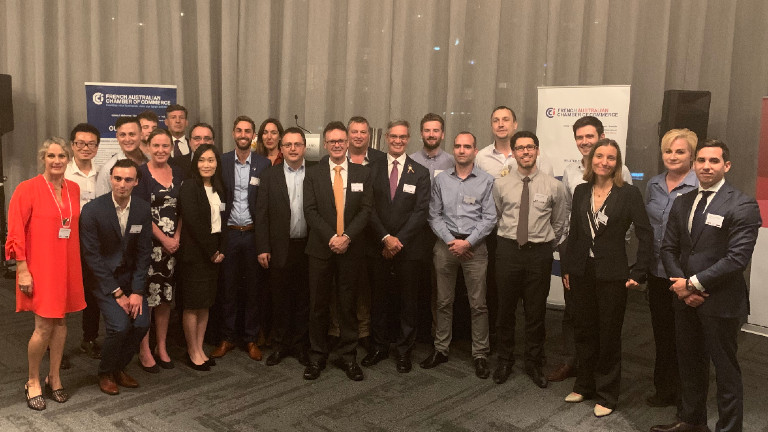 Business France and FACCI both joined their knowledge and network during this Mining Trade Mission in WA.
From the 20th to the 22nd of March 2019, Business France AU has organised a French delegation of 13 companies, which were introduced to the Australian mining industry. Each company could showcase their solutions to mining players to develop their business in Australia.
After visiting Jakarta in Indonesia and Melbourne in Victoria, this delegation landed in Perth - Western Australia, capital of mining in Oceania. For this WA visit, Business France partnered with the FACCI WA Chapter in order to capitalize on its network and its expertise.
The two-day program focused on an introduction of the mining industry of WA, presented by the State Government; a presentation on the mining innovation and potential institutional partners; a presentation by a panel of 7 companies already active in the Australian mining market; B2Bs meetings and a Cocktail function giving the opportunity to the participants to network at government and industrial levels.
This Team France partnership highlighted the strength France has in Australia with the combination of Business France and FACCI. Both joined their knowledge and network with the view to facilitate and cater for the needs of the participants.
It was also very important for our French local companies to showcase their capabilities and a panel of 7 companies, forming our FACCI WA Mining Committee, presented an overview of the mining sector in WA and particularly shared genuinely their experience in doing business in WA.
The focus was on "what to do or not do" for a foreign company to develop their business or services in WA.
"The difficulty encountered if there is a lack of understanding of the WA market and its cultural economy. A culture focuses' attention on the practical ways will result on a positive development. A strong comprehension on the culture we are doing business with, will define the company's abilities to be successful in breaking the intended market" illustrated the focus of the session.
This event responded to the need of the audience and reassured companies on their strategic development's implementation. All of the 13 companies present in the room shared Q&A sessions with the panel, and shared each other's' point of view.
As part of the panel were present: Ben Maslen – General Manager at Lassarat, Jerome Monteiro – General Manager at Profluid, Andreas Mueller – General Manager at Spie, Philippe Schauffler – Business Development Manager at Freyssinet, Eric Metrot – General Manager at FIVA Composite Australia, Edgar Longui- Business Development Manager at TechnipFMC.
We would like to thank PWC for sponsoring the lunch and logistic of the sessions. It was also a great opportunity for our participants to receive valuable information from the PWC Team on how to set-up your business/company in Australia and be aware of their extensive services already provided to a large number of French companies at a global level.
A cocktail reception, kindly sponsored by BNP Paribas and AVPartners, concluded the day of presentations. We were fortunate to count in our guests: Chris Tallentire, MLA- Parliamentary secretary for Minister David Kelly and Dr. Mike Nahan – MLA, Leader of the opposition. Both demonstrated the interest of the State of WA to develop bilateral relationships between France and Western-Australia.
The WA mission concluded on Friday 22 for our participants, with a full program of B2B meetings with customers and potential partners.
Our Team France received great feedback from the participants and is already planning the next mission.
Companies participating to this committee:
ARIAS TECHNOLOGIES, CAHORS, DASSAULT SYSTEMES, DUONS AUSTRALIA, EGIS, FEURST, GROUPE LATTY, MANITOUR GROUP, PARTNAIR INDUSTRIES, PREDICT, SLCE WATERMAKERS, SOFRECO, XL.