Our Queensland Chapter is delighted to welcome you in-person (and in streaming) for the Brisbane edition of our French Australian NZ Business Days!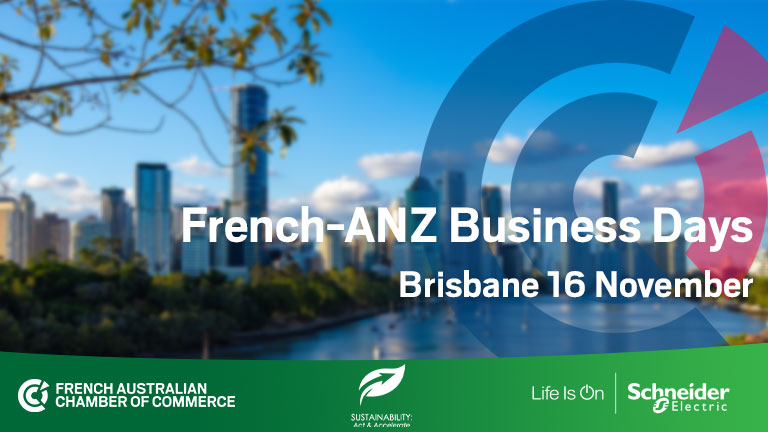 The French-Australian Chamber of Commerce and Industry, in partnership with the French-New Zealand Chamber of Commerce & Industry, is delighted to invite you to the French Australian New Zealand Business Days in Brisbane on Tuesday 16 November.
The event will propose a series of rendezvous including 3 conferences, a C-suite luncheon, and a site visit around the topic 'Sustainability: Act & Accelerate'.
Come and join us from 7am, for the opening of the event by the Hon Cameron Dick, Queensland Treasurer and Minister for Trade & Investment.
The morning will be divided in 3 sessions focussing on Net Zero Australia, the transition to a Circular Economy and Sustainable Infrastructure for Brisbane 2032 gathering panelists from stakeholder organisations involved in major Transport, Energy & Infrastructure projects. With the threat of Climate change, FACCI is committed to play its part in supporting initiatives towards a sustainable economy, fostering stronger relationships, building partnerships and driving momentum on this crucial issue.
We look forward to seeing many of you in-person!*
OUR PROGRAMME
7:00am - Breakfast & networking
7:30am - Official opening
Session 1: Net zero: an opportunity for Australian businesses (8:10am-9:25am)
Dr Chris Greig, Senior Research Scientist, Andlinger Center for Energy & the Environment, Princeton University and co-author of the Net-Zero America Report
Andrew Garnett, Director, UQ Carbon Capture & Storage, UQ Centre for Natural Gas & Director
Ronan Bescond, Country Chair Australia, TotalEnergies
Jacqui Walters, Chair, CleanCo
Gareth O'Reilly, President Pacific Zone, Schneider Electric
Rick Wilkinson, Head of Consulting, EnergyQuest (Moderator)
9:25am - Break
Session 2: The business case for the transition to a circular economy (9:55am-11am)
Pravin Menon, Executive Director - Environmental Policy & Program, Office of Resource Recovery, Department of Environment & Science, Queensland Government
Angela Cooney, Sustainable Solutions Manager, Veolia ANZ
David Hickey, Project Manager, Michelin
Aaron Rodman, General Manager Finance - Commercial& IT, COEX
Toni Pecoski, Health & Safety & Environment Director, Schneider Electric
Jacqui Doyle, Partner - Construction, Infrastructure & Major projects Sustainability, Holding Redlich (Moderator)
Session 3: A sustainable Gold medal for the Brisbane Olympics (11am-12:30pm)
Cr Krista Adams, Brisbane Deputy Mayor
Matt Carroll AM, CEO, Australian Olympic Committee
Kerry Petersen, Deputy Director-General of the 2032 Taskforce, Department of the Premier & Cabinet, Queensland Government
Neil Scales, Director-General, Department of Transport & Main Roads
John Kirkwood, Managing Director & CEO - Seymour Whyte (Vinci Group)
Louise Monger, VP Digital Buildings, Schneider Electric
Alex Guy, Partner - Transport & Infrastructure, Ashurst (Moderator)
OUR PLATINIUM SPONSORS
OUR DIAMOND SPONSORS
OUR GOLD SPONSORS
OUR PARTNERS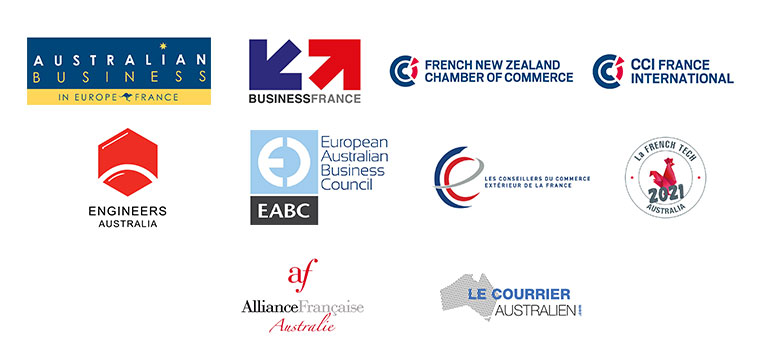 Event Location