Event report
NSW | 2019 Renault Soirée de Gala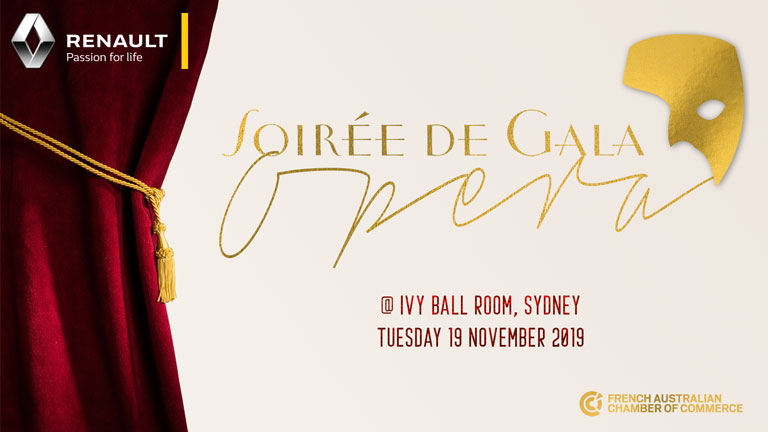 What a pleasure to hold our annual Soirée de Gala at the Ivy Ballroom in Sydney!
We had the pleasure to hold our annual Soirée de Gala at the Ivy Ballroom in Sydney on Tuesday 19 November! This year we had the pleasure to have Renault as our naming rights sponsor for what has become a much-awaited event year after year for the French-Australian community.
Between an Opera performance by the Sydney Opera Chamber, Ballet and cabaret dance shows and amazing food there is no doubt this will remain a memorable night for the French-Australian Chamber of Commerce and everyone who attended. During our live and silent auctions our guests were also able to go home with amazing prizes such as trips to Mauritius, Mykonos, Thailand and many more destinations!
This year we were particularly proud to have partnered with the Sydney Women's Fund to donate a part of the profits made during our live auctions!
We would like to thank H.E. Christophe Penot for attending and speaking at this event as well as Jerome Fournand and Frank Ribuot for hosting this event.
We would also like to thank our naming rights sponsor, Renault, our Gold sponsors, Bouygues Construction, Air France, Pernod Ricard, our Silver sponsors, Aircalin, Anantara, Meetings & Events by Club Med, Myconian Collection & Nouvelle Calédonie Tourisme, as well as all of our product sponsors, Av`ene, Bausele, Don de L'Amour, Four Frogs, Franck Provost, French Espadrilles, Gault & Millau, GJ Food, Le Jacquard Francais, Klorane, L'Occitane, le Creuset, Le Roof Restaurant, Lilianfels, Naval Group, revol, Ramada, Sabre & Simone Pér`ele for helping make this event a great success!
We hope to see at next years' Gala!