Companies news
Flinders University has launched a landmark Electric Vehicle charging station showcasing award-winning bidirectional vehicle-to-grid technology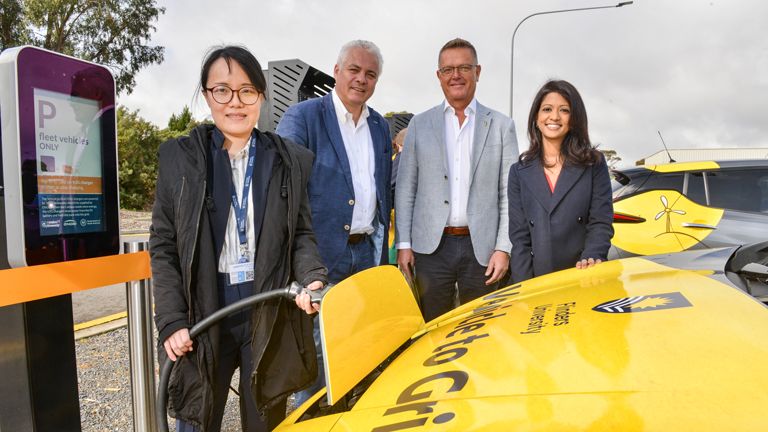 The State Government-backed project showcases a collaboration between ENGIE and Flinders, bringing 10 V2G chargers online: a new virtual power plant.
The project demonstrates how EVs (Electric Vehicles) can be harnessed to support South Australia's electricity system during periods of peak demand and has just won Flinders University the Sustainable Development Goals Initiative of the Year Award at the Triple E Awards in Barcelona.
The Honourable Tom Koutsantonis MP, Minister for Infrastructure and Transport, commented:
More and more electric vehicles will be hitting our roads in years to come as we travel towards net zero emissions. With trials like this investigating the possibilities for broad use of this technology we can be confident we are on the right track.
The "V2G" charging bays can charge and discharge electricity to the campus's electricity grid, creating a Virtual Power Plant (VPP) to benefit the University's fleet, staff and students. These "V2G" bays will be used to feed renewable energy from compatible EVs back into the campus grid as part of the new VPP established by ENGIE for the trial.
Rik De Buyserie, ENGIE ANZ CEO, added:
The integration of renewable energy, EV charging and demand management systems better matches renewable output to a site's demand, reduces emissions and puts downward pressure on electricity prices.
Professor Colin Stirling, Flinders University Vice-Chancellor, explains that investing in an expanding electric vehicle fleet and bidirectional smart chargers, allowing EVs to store energy on campus, is a significant move towards their climate-positive goals. With 100% renewable energy and the Electric Vehicle Smart Charging Trial, the university is taking another big step in its sustainability journey.
---
Source: Flinders University