Companies news
Hybrid Tower in South Sydney to stand out from the crowd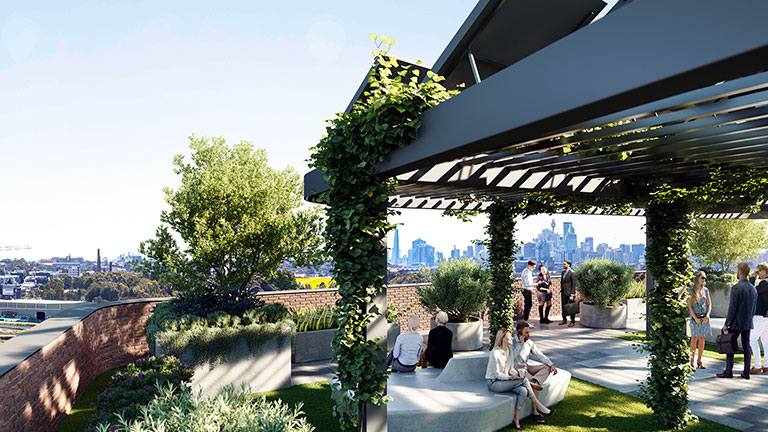 Linkcity is launching their first development project in Australia - The Hybrid
PROMOTIONAL ARTICLE
A new 16,000sq m 10-level A-grade commercial building will be built at 12 Ossary Street in Mascot by Linkcity
The development, called The Hybrid – South Sydney – will be built with a unique hybrid timber structure frame and will be among the most sustainable buildings in Australia
The unique factors of the building are expected to draw in a wider range of tenants to the area, including those in creative, media and fashion industries
Floorplates in the development are 2,600sq m, with leasing rates ranging from $540/sq m to $580/sq m net
A VERY different type of commercial tower is set to take shape in South Sydney, attracting a different type of tenant to the area, as Linkcity launches its first development project in Australia, The Hybrid – South Sydney.
As the name suggests, the 16,000sqm 10-level A-grade commercial office building at 12 Ossary Street in Mascot will be built with a unique hybrid timber structural frame. With a focus on sustainability and technology, it will be among the most sustainable buildings in Australia.
Linkcity is part of the global French construction conglomerate Bouygues, with Sustainability and Construction Technology being two of the pillars that it pushes to its global subsidiaries. Bouygues, in line with the Paris Climate Agreement, requires all global subsidiaries to deliver at least a 30% reduction in greenhouse gas emissions across their businesses and projects. The hybrid structure of The Hybrid will help reduce the upfront embodied carbon to the building by 40%.
Linkcity has committed to a 6 Star Greenstar rating, a 5.5 NABERS rating and Net Zero Carbon in operation, purchasing green power. The building will have 5% EV charging with the ability to grow to 100%, with capacity for 245 cars. On the roof will sit a 99kw solar installation surrounded by a green roof and four beehives to assist with the pollination diversity of our landscape areas and the surrounding buildings.
The timber columns and ceiling in the offices will have wellbeing and biophilic benefits for occupants, on top of a Platinum WELL© score confirming the commitment to best-in-class tenant wellbeing.
"From the first discussions with our board in Paris they have been extremely interested to understand how we are designing this building differently, and how we are pushing the boundaries with The Hybrid,"
says Nicolas Swiderski, General Manager of Linkcity in Australia.
"We have worked closely with our sister company A W Edwards who will build this flagship building, to come up with a smart structure that was fast to build, substantially decreased the carbon footprint of the building, and was better for tenants."
Greg D'Arcy, A W Edwards CEO said:
"A W Edwards utilised a proprietary concrete-filled steel structural beam on a recent Data Centre project and, together with Linkcity, came up with the idea to adapt this system for a timber office building."

"The use of the steel beam, with a timber floor system and a low carbon concrete topping slab has many benefits over a full timber building, including fire protection and acoustic benefits. Tenants will feel like they are sitting in a timber office building, without really knowing the hard work that the steel and low carbon concrete do to make the building more usable."
Thomas Hansen, Principal Architect at Scott Carver Architects and Project Lead on The Hybrid said:
"The brief from Linkcity was to design a building that was authentic to South Sydney, drawing from its industrial heritage."

This was achieved with The Hybrid where the architecture is revealed in three key layers: a H-Shaped built form designed to maximise flexibility and daylight, a unique façade comprising a hierarchy of recycled brick, steel and glass, and the showcasing of the hybrid timber structure, putting construction innovation on display.

The recycled brick, vertical and horizontal proportions and timber internals could see this building blend in alongside Surry Hills' finest heritage examples. This was a fantastic opportunity to unleash the Scott Carver team's creativity and co-create something truly unique to South Sydney."
Tenants in The Hybrid will have two terraces per floor, a 200sq m courtyard on the fourth level, an active rooftop with an open terrace spanning city skyline views, and a half basketball court.
End of trip facilities, including 142 bike spaces with electric bicycle charging available, are located next to a fitness studio.
The Hybrid is also packed with technology to cope for the future tenants' needs, with smart lockers, number plate recognition, people counting, wireless chargers in the lobby, and tenant WiFi broadcast to the lobby. The building will have high levels of data redundancy, dual cable providers, dual MDF rooms, aiming for a high WiredSore certification.
Knight Frank agent Nick Sinclair, who is marketing space in the development along with colleague Nick Lau and Tim Courtnall and Fergus Bowen of CBRE, said The Hybrid stood out from the crowd, being a statement development to launch Linkcity in Australia.
"Recycled Bricks, quarterly honey deliveries to the tenants from the rooftop hives, beautiful timber columns on the office floor and green laneway are certainly not things you associate with a lot of brand new offices in this area.This building is for businesses who would like to make a statement about their commitment to sustainability and to their employee's wellbeing."

"It's similar to a Surry Hills warehouse type offering, and will attract a different type of tenant, including those in creative, media and fashion industries. Usually those tenants would typically be in the city fringe, but this is offering them like for like product, and in many cases at half the price of inner city markets."

"The landscape in Mascot is changing with growth in the commercial market, which is increasingly drawing in more tenants."
Floorplates in The Hybrid are 2,600sq m, with leasing rates ranging from $540/sq m to $580/sq m net.
Completion of the building is expected in 2023.
Further information can be found at www.thehybrid.com.au