Companies news
Rendel's extends its reach across Australia by Acquiring a controlling interest in Aspec Engineering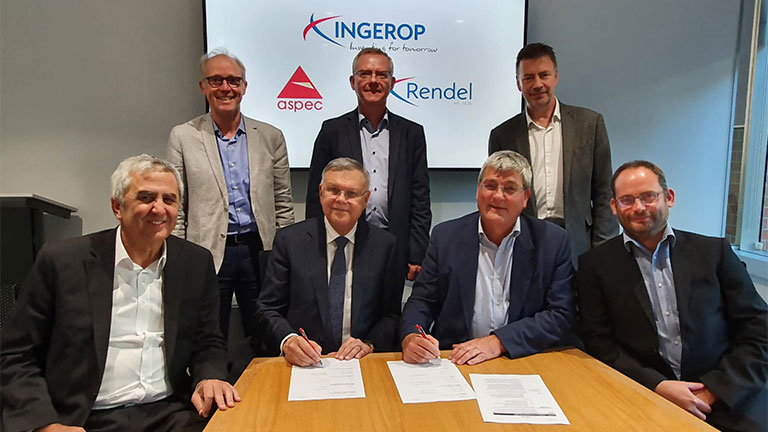 Rendel aims to strengthen its position across Australia.
International engineering consultancy Rendel Limited, a subsidiary of the French-owned Ingérop Group, has purchased a controlling interest in Aspec Engineering Pty Ltd (ASPEC), a multi-disciplinary engineering company based in Australia in the field of material handling, ports and infrastructure. Rendel opened Rendel Ingerop Pty in Sydney in 2018 and aims to strengthen its position and extend its reach across Australia with the acquisition of a controlling interest in ASPEC, working alongside ASPEC's offices and teams in Brisbane (QLD), Perth (WA), Newcastle, Wollongong (NSW) and Melbourne (VIC).
Rendel's managing director, Vardaman Jones said:
"Rendel and ASPEC have a 12-year history of collaboration on projects in Australia including Sydney Gateway, Hay Point Expansion Berth 3, Melbourne Metro, Sydney Metro North West Rail Link and the Hay Point Berth 2 Shiploader Replacement Project. Like Rendel and Ingerop, ASPEC is key client focussed, prides itself on providing the highest technical services to its clients and the cultural synergies that our companies share will enhance the offering to our clients. We are very excited about the opportunities that will arise from this purchase. We are looking for ASPEC to extend its reach and provide materials handling expertise to the whole Ingerop group as well as working with Rendel in Australia to expand its transportation engineering expertise."
Rendel already has a long history in Australia, including the completion of the £230 million Sydney Metro Northwest Skytrain project in Sydney, which at the time was the largest infrastructure project in Australia. Since the opening of the Sydney office, Rendel has worked on several very high-profile and complex infrastructure projects.
Founded in 2003, ASPEC is a specialist firm with a national footprint, located in Queensland, Western Australia, New South Wales and Victoria. It provides services to ports, heavy industries and government organisations. They have many blue-chip accounts in their portfolio and their services focus on extending asset life; reducing risk; increasing efficiency; reducing environmental impact; and complex brownfield upgrades.
Richard Morgan, managing director of ASPEC said:
"Clients recognise ASPEC for providing solutions and having a flexible approach to our work. Our commitment to quality, safety and environment with well-developed design tools and systems will complement Rendel's skills in civil and structural engineering. I look forward to working with Rendel and the wider Ingerop group both to expand our worldwide reach in the materials handling arena along with widening the breadth of our infrastructure workload using Rendel and Ingerop's expertise in this field. Joining the group will enable ASPEC to grow and become a more resilient business.".
On the Photo:
Back row from left to the right: Yves Metz, president of Ingerop group – Christophe Blanc, international director of Ingerop - Neil Kerridge, director of Rendel Ingerop in Australia
Front row left to right: Frank Gatto and Richard Morgan, managing director of Aspec Engineering - Vardaman Jones, managing director of Rendel Ltd - Dan Squires, director of Rendel Ltd
---
Source: Press Release